Leftover Yuzu Ramen
Posted by Ecomm Admin on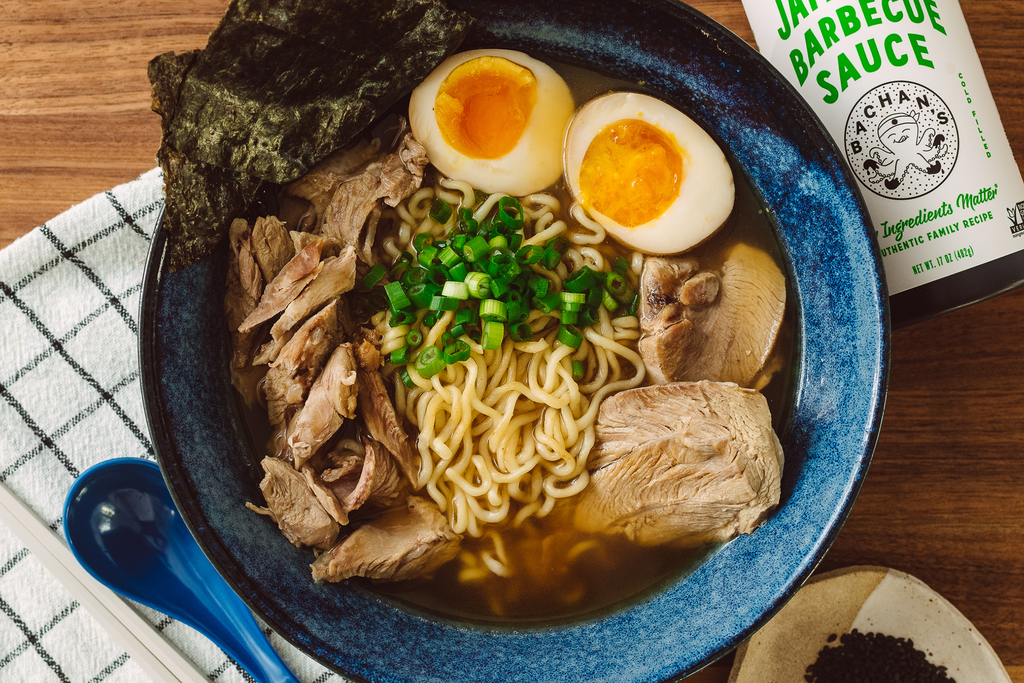 Directions
1. Make the eggs: bring a generous amount of water to a boil in a pot. Prepare an ice bath in a bowl with cold water and ice. When the water comes to a boil, add the eggs in with a slotted spoon. Cook the eggs for 7 minutes and 30 seconds, then use the slotted spoon to add the eggs to the ice bath. When cold, gently peel the eggs. Soak the peeled eggs in 1/4 cup Bachan's Yuzu Barbecue Sauce, then cover the eggs with water if needed, turning to coat evenly. Marinate the eggs while you make the ramen broth, or up to 24 hours. When ready to serve the ramen, remove the eggs and slice in half.
2. Make the ramen broth: bring the chicken stock, along with the onion, carrot, and the whites of the green onions up to a boil over high heat. Turn the heat down to maintain a simmer for 10 minutes, covered. Remove the stock from the heat and strain out the solids. Keep hot, partially covered, on a low simmer, while you cook the noodles and assemble.
3. Bring a pot of water to a boil and cook the ramen according to the package. Drain well.
4. Assemble the ramen: evenly divide the hot ramen stock into deep ramen bowls. Add the strained ramen noodles. Add 2 tbsp Bachan's Yuzu Barbecue Sauce and 1 tsp toasted sesame oil to each bowl. Top with the green onions, leftover turkey, the yuzu egg, and a slice of nori. Enjoy!
ingredients
1/2 cup Bachan's Yuzu Japanese Barbecue Sauce
2 eggs
4 cups no sodium chicken stock
1/2 small onion
1 small carrot
4 green onions, whites intact, greens sliced
2 portions ramen noodles of choice
2 cups leftover turkey or other leftover meat
2 tsp toasted sesame oil
nori, to serve

Prep Time: 20 Minutes
Cook Time: 20 Minutes
Serves: 2