My Obachan's Story
Posted by Robert Van Horne on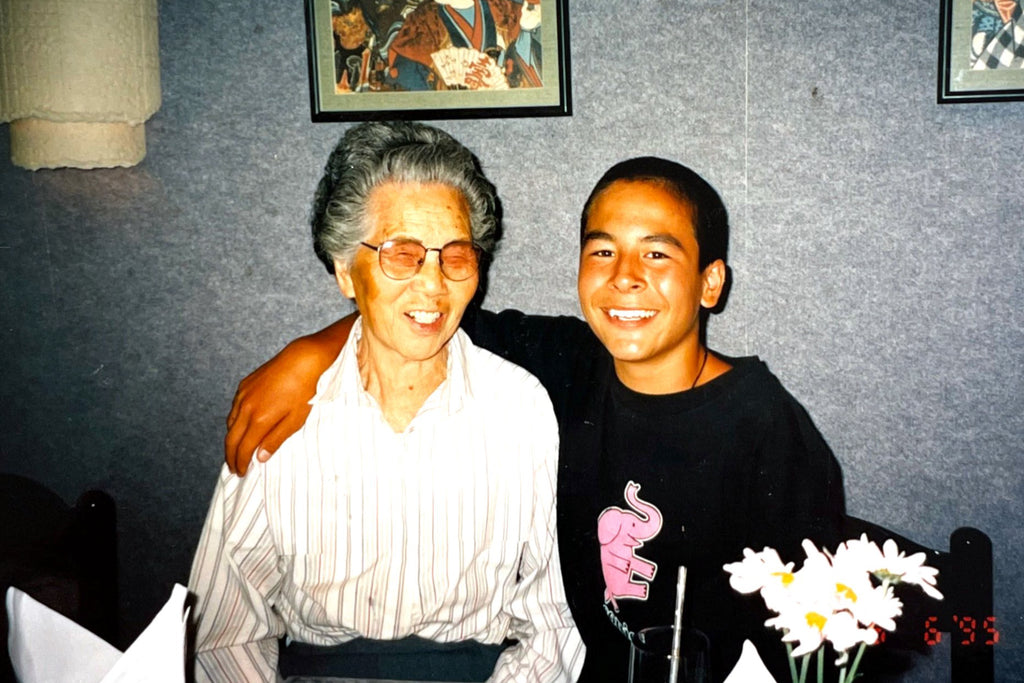 March 12, 2021
In honor of Women's History Month, I wanted to tell my Obachan's (great grandmother's) story.
In honor of Women's History Month, I wanted to tell my Obachan's (great grandmother's) story. Shigeno Yokoyama was the matriarch of our family and was one of the strongest women I have ever known. She came to the United States in 1923 from Yokohama, Japan, when she was just 19 years old. She was a Bonsai artist and teacher, Ikebana (Japanese Flower Arrangement) artist and teacher, avid gardener, home chef, and a true renaissance woman.
I have very fond memories of her showing me how to prune the Bonsai trees and prepare the soil mix that they would go into. People would come to her classes on Japanese Flower Arrangement and I would walk around the class and look at all of the beautiful and minimalist designs that were created. Even as a young kid I noticed that she was a leader and that people respected her for all of the skills that she had. She would always give me a $5 bill and tell me to "save it for College and to do good in school." That was important to her.
My family would eat together at her house everyday for lunch and dinner. My aunties, uncles, grandparents, and cousins would be there day in, day out. Looking back on it, it was such an amazing part of my childhood. My family coming together like that set the foundation for what family means to me to this day.
My Bachan, Judy Yokoyama, used to "help" us with writing all of our papers in school. I wanted to tell my Obachan's story and I asked her to write some background info for me that I could use to write the story. What she gave me was a full blown story about my Obachan that is written in first person, by me. Old habits die hard I guess. Lol. I am honored to share this story with you all in honor of Women's History Month. It's a story of strength, honor, perseverance, family, and love.
Celebrating International Women's Day makes me reflect on the amazing, strong, courageous, resourceful women in my life. My great grandmother (Obachan) Shigeno Yokoyama is the symbol of a great woman. Her life journey is filled with hardships which she overcame with her true grit to reach what seemed an insurmountable goal—succeed in America~

Obachan was born on August 2,1903; in Hiroshima, Japan. Her youth was spent comfortably in Hiroshima, Japan. Her family owned an inn with a shop. She was taught all the necessary duties and arts of young ladies in a proper home. She had a natural talent for all the tasks of the household—cooking, sewing and whatever she was taught came easily to her. She told me the inn had continual guests coming in, and running the store kept her busy. Obachan described her family's property. She said they had their own grain storage building, food storage building, all on their land. However, Japan was going through bad economical times so many people decided to go to America for a better more prosperous life for their families. Obachan didn't have to emigrate but she had a dream of going to America!


She married my Ojichan (great grandfather) George Yutaka Yokoyama when he returned to Hiroshima after his Mother and Father had gone to America via Hawaii. Ojichan was born in Hawaii. He went on to San Francisco before Obachan to prepare for her arrival. In 1923, a year before the Immigration Act of 1924 stopped immigration to America from Japan, Obachan left Japan. Just 20 years old, she embarked from Yokohama port bound for San Francisco, CA.  She did not speak English and did not know what lay ahead! The journey by ship took two weeks—conditions were far from the cruise ships of today! Obachan said many passengers fell ill but she did not!
Upon her arrival in San Francisco, she was taken to Angel Island where she had to be quarantined for a week. In her days there, she befriended the staff and even taught them embroidery and other skills that she had, without speaking English.  Another challenge was wearing Western clothing, dresses and high top shoes, instead of kimono and slippers!

Finally, her father-in-law my great great grandfather came to pick her up. They made the trip to Sebastopol. He stopped in front of this small shack. She asked him where her new home was—he said, this is it! My Ojichan welcomed her. It was not the golden land that she had imagined! From that day on, she had to learn the apple and hops businesses. It was hard, back breaking work. Not the life she had in Hiroshima! This did not dampen her spirit. She revamped her plans!  Ojichan and Obachan had four children and Obachan took over raising their family. In those days, the men still lived their Japan ways when it came to raising their family. They supported but the mothers took care of the home! Obachan taught all the children the importance of a good work ethic and foremost to study hard and do well academically. She passed that from her children, grandchildren and great grandchildren. She planted firmly in our heads that we would get the "degree." She told me I could lose other things but never my education.
Obachan instilled in us to pursue being an entrepreneur. She did just that no matter where she was or what the circumstances were. She did that upon her arrival at Angel Island, new experiences in Sebastopol and the difficult years being sent to the internment camp Amache in the Colorado desert. She didn't allow herself to be woebegone, she worked in the block mess hall preparing meals, making the barrack living quarters as comfortable as possible and keeping her family upbeat and able to cope with the days in camp. Another example of her strength and positivity is supporting her oldest child Anne who was only 18 to leave camp alone and travel to Montana where she was allowed to attend nursing college. She encouraged Anne to be strong and capable of achieving her dream even under the worst of times. Upon returning to Sebastopol after the war ended, she again dug in, enabled her and Ojichan to purchase their first home in Santa Rosa. After working and buying another property that had two rental units which Obachan determined would be necessary for income after they retired. This is an awesome achievement for an Issei, first generation woman to achieve, from
her first step in America, through the challenging years which she progressed through determination, perseverance, tenacity and the dream of reaching her goal to be a success in America. These principles she passed on through the generations.

Obachan has taught me to be respectful, I have always respected her~She taught by example and I will remember always her words of wisdom. She had such a big impact on my life and I strive to emulate her positive ways, to be confident in my endeavors, personal and professional. To show her determination to the end of her life, Obachan's health was failing but so she wouldn't disappoint all her family, she hung on and was able to celebrate her 100th birthday with all her family, who she always put first. I am so thankful for my Obachan Shigeno Yokoyama whom I honor and celebrate this International Women's Day.
In gratitude and love,
Justin