Bachan's & Cheese Fries
Posted by Ecomm Admin on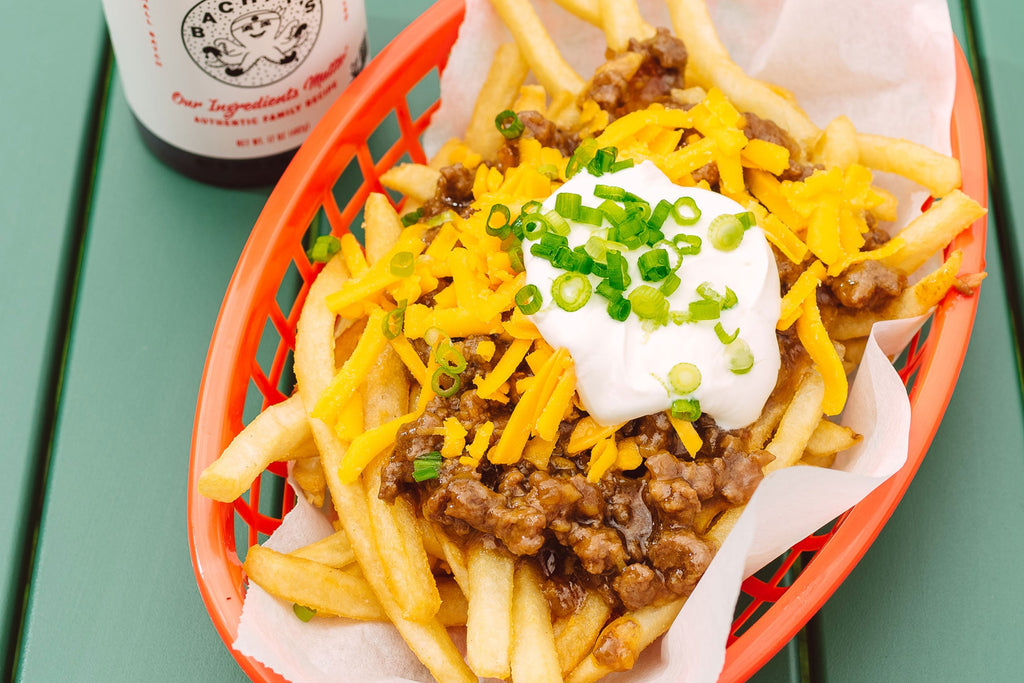 Directions
1. Heat the oven to the required temperature and bake the fries according to the package directions.
2. While the fries are crisping, make the teriyaki beef. In a small bowl or liquid measuring cup, whisk together the beef broth, Bachan's Japanese Barbecue Sauce, and cornstarch. Set aside.
3. In a medium saucepan, heat up the oil over medium high heat. Add the onion, ginger, and garlic, and sauté until soft, but not brown, 1-2 minutes.
4. Stir in the ground beef and cook until brown and cooked through, breaking it up as you cook.
5. Stir in the prepared sauce and bring to a gentle simmer, then reduce the heat to low and keep warm until the fries are ready.
6. When the fries are done, remove from the oven. Top with the teriyaki beef, shredded cheese, sour cream, and sliced green onions. Enjoy immediately.
ingredients
1/4 Cup Bachan's Original Japanese Barbecue Sauce
8 ounces frozen french fries
1/2 cup no sodium beef broth
2 tsp cornstarch
1 tbsp neutral oil
1/4 medium onion, chopped
1 tsp fresh ginger, minced
2 cloves garlic, minced
8 ounces lean ground beef
1/2 cup shredded cheddar
1/4 cup sour cream
2 tbsp sliced green onions

Prep Time: 10 Minutes
Cook Time: 30 Minutes
Serves: 2