DUNGENESS CRAB NASI GORENG
Posted by Lucas Mays on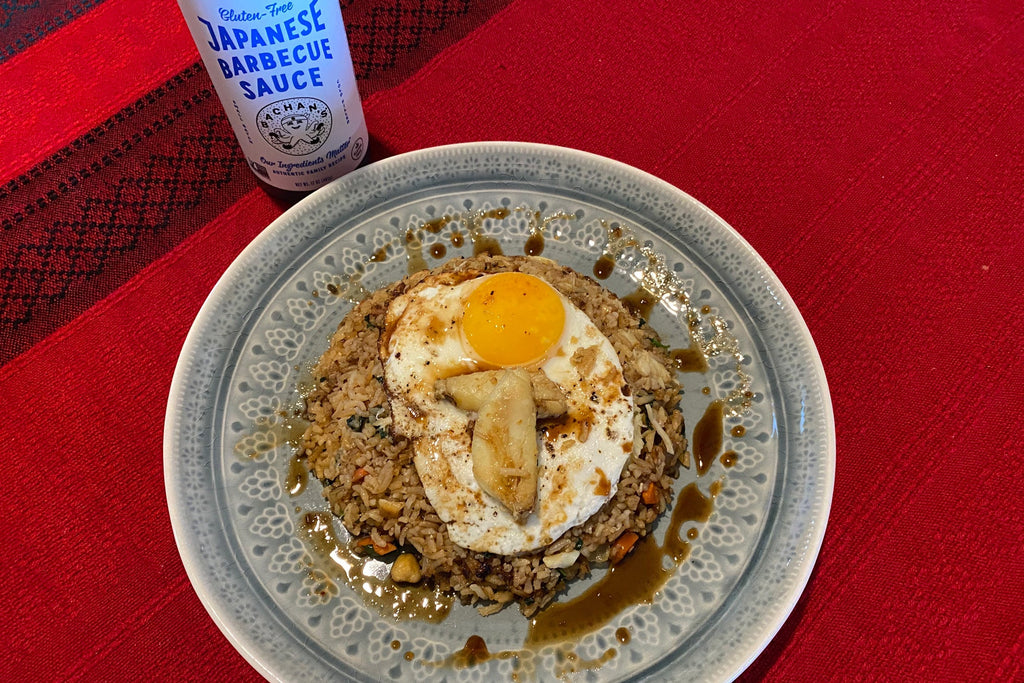 Directions
Prep onion, garlic, carrots, cashews, spinach by dicing and chopping each ingredient to your desired cut size.

In a large non-stick pan, heat butter as base layer, then cook onions and garlic on low heat for quick caramelization.

Add carrots and cashews, adding salt and pepper to season.

Add cooked coconut rice and bring heat to medium / high, stirring often to crisp up ingredients but not overcook.

Add spinach and the star ingredient, dungeness crab.

Continue to stir on medium / high heat and lace the pan with a healthy portion of Bachan's Gluten-Free Japanese Barbecue Sauce (or Original as substitute). Mix thoroughly and lower heat to simmer to keep warm.

In separate non-stick pan fry a single egg (or multiple) in butter or oil of choice, seasoning to preferred taste. Cook till desired temperature then remove from heat.

Use a shallow salad type bowl to pack in as many portions of fried rice mixture into a firm mold, then flip over in center of dinner plate to create base.

Top base with fried egg(s) and douse nasi goreng with Bachan's to finish.

Crush bite after bite of rich umami succulence and then spread the news...
ingredients
1 egg
1 cup freshly picked cooked dungeness crab
4 cups cooked coconut rice (rice cooked with coconut cream)
3 tbsp. Bachan's
1 cup chopped cashews
1 small onion finely chopped or bunch of green onion
2 cloves chopped garlic
1 cup chopped carrots
2 cups chopped spinach
½ tsp. salt
1 tsp. fresh ground pepper
2 tbsp. butter

Prep time: 15 minutes
Cook time: 15 minutes
Serves 2 (double up to serve 4)