Gameday Sausage Balls
Posted by Ecomm Admin on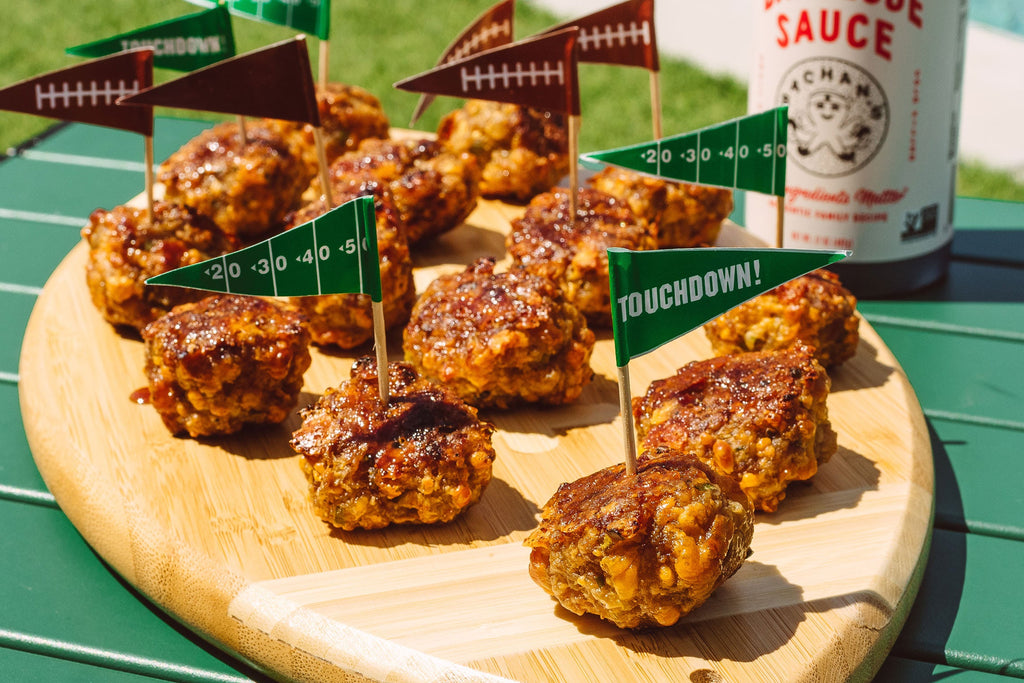 Directions
1. Heat the oven to 450°F and line a large baking sheet with parchment paper. In a large bowl, mix together the ground pork with Bachan's Japanese Barbecue Sauce, sliced green onions, and black pepper until throughly mixed and homogeneous. Set aside.
2. In another bowl, whisk together the flour, baking powder, and cheese. Add the flour mix to the ground pork and mix until you can form small balls of sausage that stick together. If the mixture seems dry, add Bachan's by the tablespoon until the mix can be squished together into balls.
3. Scoop out 1.5 tbsp of the sausage mix and roll, forming into a ball. Continue until you are out of sausage mix. Place the formed balls 1 inch apart on the prepared baking sheet.
4. Bake for 20-25 minutes, or until golden and cooked through. Brush generously with Bachan's Japanese Barbecue Sauce and broil for 1-2 minutes, being careful not to burn.
5. Remove from the oven, let cool and enjoy with extra Bachan's Japanese Barbecue Sauce for dipping.
ingredients
1/4 Cup Bachan's Original Japanese Barbecue Sauce, plus extra to serve
1 lb lean ground pork
1/2 cup sliced green onions
1/2 tsp freshly ground black pepper
1 1/4 cups all purpose flour
1 1/2 tsp baking powder
2 cups shredded cheddar

Prep Time: 15 Minutes
Cook Time: 15 Minutes
Serves: 4