Taco Tuesday Plot Twist
Posted by Ecomm Admin on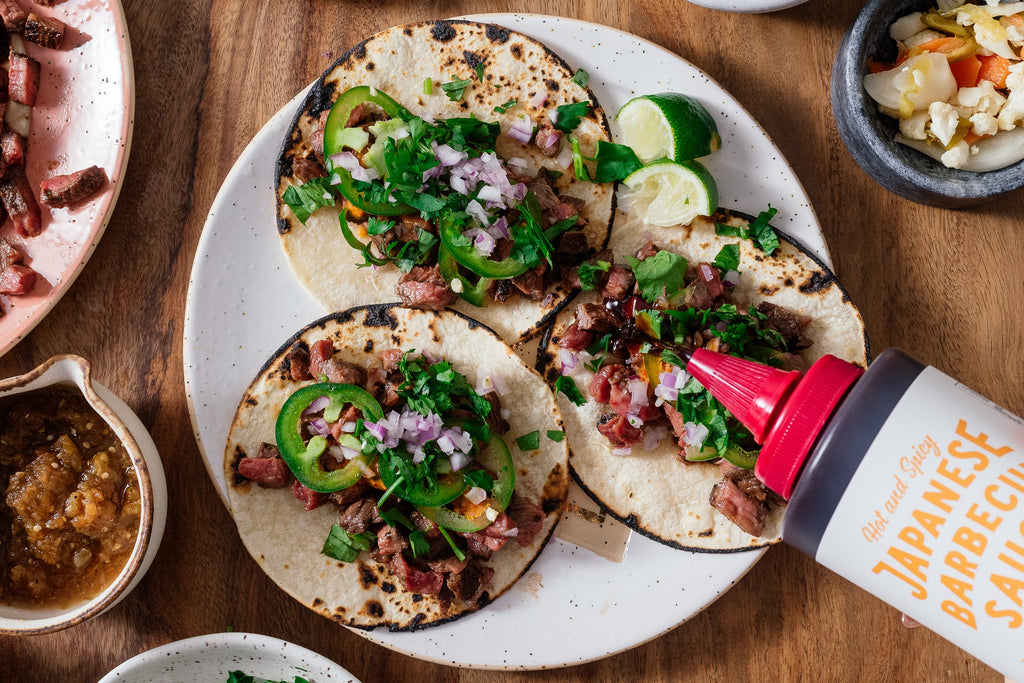 Directions
1. Whisk together the oil, lime juice, garlic, cilantro and Bachan's Hot and Spicy Barbeque Sauce in a container that will fit the steak, flat.
2. Add the steak and turn to coat. Marinate for 1-4 hours.
3. Heat a cast iron pan over height heat and add a generous amount of oil. Cook for 3-4 minutes per side, remove from the pan and let rest.
4. Slice the steak against the grain and then chop into small pieces.
5. Warm the tortillas and top with chopped steak, finishing with extra Bachan's, cilantro, jalapeños, red onions, and a squeeze of lime.
ingredients
1/4 cup Bachan's Hot and Spicy Japanese Barbecue Sauce
2 tbsp neutral oil
2 tbsp lime juice
1 clove garlic, minced
2 tbsp minced cilantro
1 lb steak of choice, like round or chuck
8 street size tortillas
chopped cilantro
1 jalapeño, sliced
diced red onion
lime wedges

Prep Time: 10 Minutes
Cook Time: 15 Minutes
Serves: 2