Hot & Spicy Sausage Rolls
Posted by Ecomm Admin on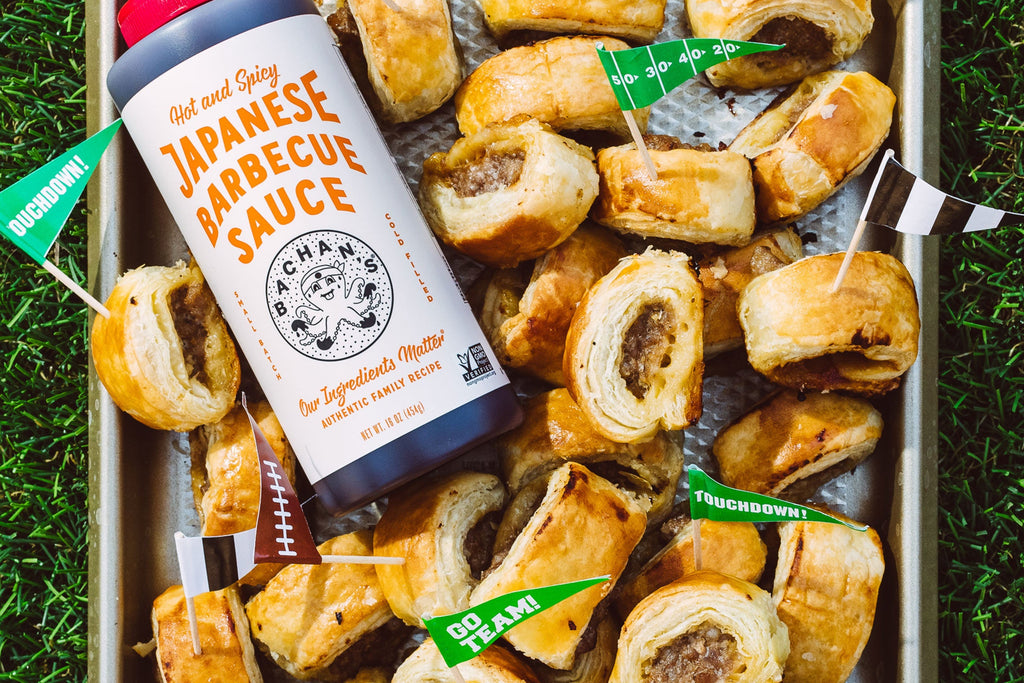 Directions
1. Preheat the oven to 400°F and line a baking sheet with parchment paper. Thaw the puff pastry according to the package directions.
2. Meanwhile, make the sausage: mix together the pork with Bachan's Hot and Spicy Barbeque Sauce, onion powder, garlic powder, and pepper in a bowl until throughly combined. Place in the fridge for 15 minutes to firm up.
3. Make the egg wash: in another small bowl, lightly beat the egg with 1 tablespoon of water.
4. Unroll the thawed sheets of puff pastry onto a lightly floured cutting board and roll out slightly. Cut both sheets in half lengthwise so you have 4 rectangles of puff pastry.
5. Divide the sausage evenly into 4 portions and shape into a log running lengthwise down the middle of each piece of puff pastry.
6. Brush the edges of the pastry with the egg wash and roll the puff pastry on top of the sausage and over, creating a compact roll. Arrange seam side down.
7. Use a very sharp knife to cut each roll evenly into 8. Arrange seam side down, 1 inch apart, on the parchment paper lined baking sheet. Brush the tops with the egg wash.
8. Bake for 20-25 minutes, rotating once, until the puff pastry is golden and puffed and the sausage is cooked through. Let cool on a wire rack and enjoy warm or at room temp. Enjoy dipped in Hot and Spicy Bachan's.
ingredients
1 tbsp Bachan's Hot and Spicy Japanese Barbecue Sauce
1 pound lean ground pork
1/2 tsp onion powder
1/2 tsp garlic powder
1/4 tsp freshly ground pepper
1 package frozen puff pastry
1 large egg

Prep Time: 15 Minutes
Cook Time: 25 Minutes
Serves: 4