Halibut that Hits
Posted by Ecomm Admin on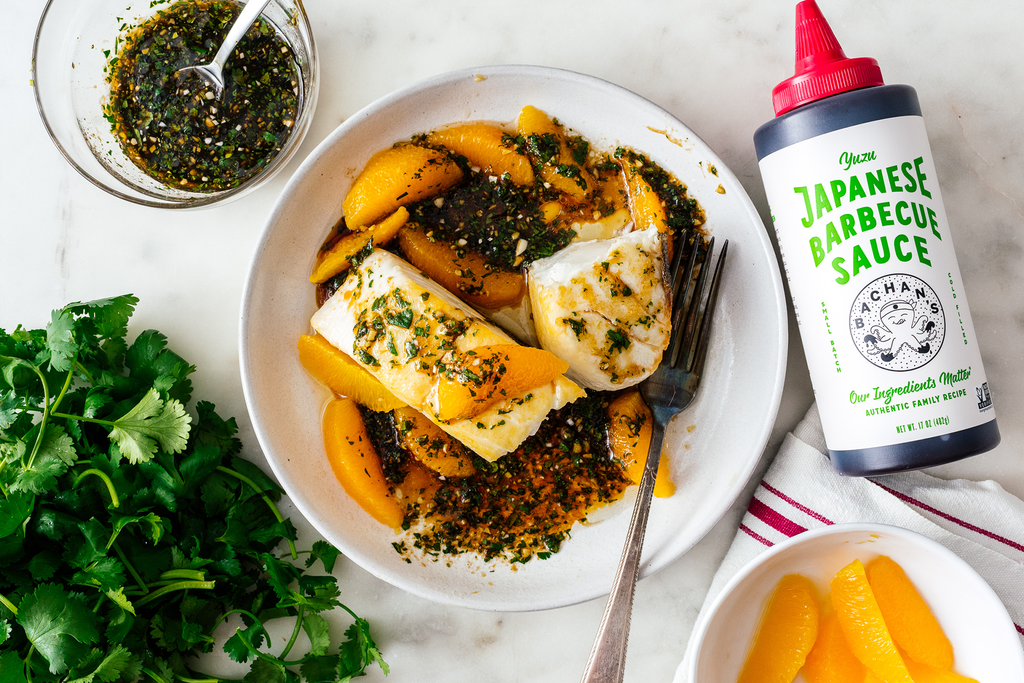 Directions
1. Lightly pat the halibut dry and let sit at room temp for 30 minutes.
2. Combine 2 tablespoons neutral oil, Bachan's Yuzu Barbeque Sauce, cilantro, and garlic in small bowl.
3. Season the halibut on all sides with salt and freshly ground pepper. Heat a large pan over medium heat and add the oil. when hot, add the halibut, skin side down.
4. Lower the heat to medium low and cook until the skin is golden, crisp, and releases easily from the pan, about 4-5 minutes.
5. Flip and sear the other side for 1-2 minutes or until the fish is opaque, cooked through, and easily flakes.
6. Transfer to a plate, add the orange segments, and spoon on the sauce. Enjoy!
ingredients
2 skin on halibut fillets
3 tbsp neutral oil, divided
1/4 cup Bachan's Yuzu Japanese Barbecue Sauce
1/3 cup finely chopped cilantro
2 cloves garlic, finely minced
1 large orange, sectioned

Prep Time: 10 Minutes
Cook Time: 10 Minutes
Serves: 2