Santa Maria Tri-Tip Salad
Posted by Lucas Mays on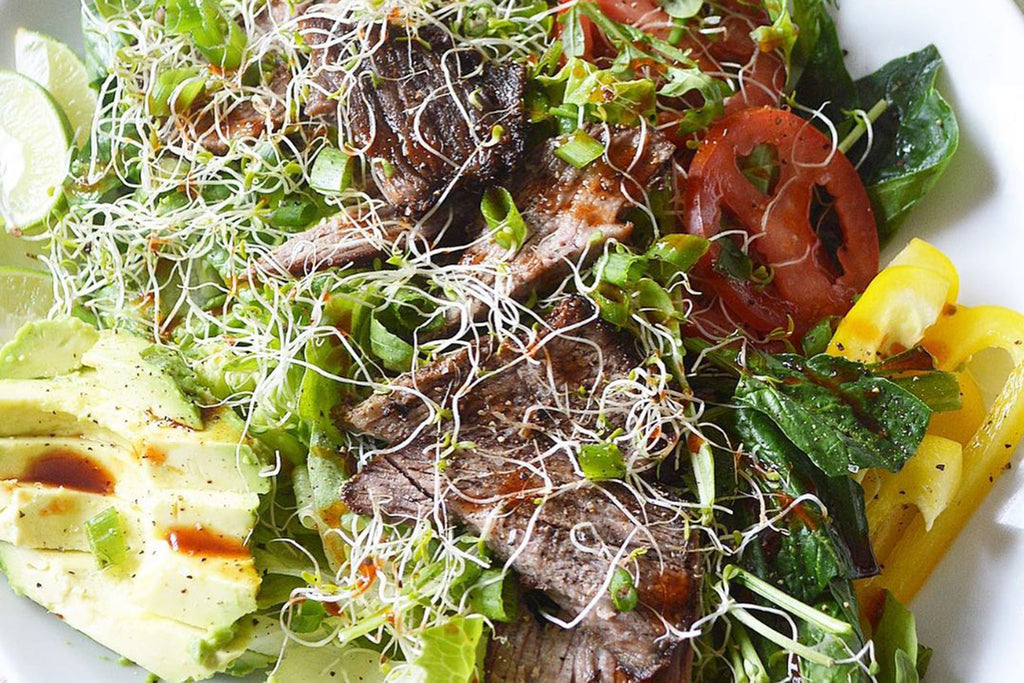 Directions
1. Mix salt, pepper, garlic powder, paprika, onion powder, rosemary, and cayenne pepper together in a bowl. Place beef in a glass baking dish and coat beef on all sides with the spices. Cover the dish with plastic wrap and refrigerate for 4 hours.
2. Combine vinegar, vegetable oil, crushed garlic, and dijon mustard together in a sealable container. Cover the container and shake well.
3. Remove the beef from the refrigerator, uncover, and let sit at room temperature for 30 minutes.
4. Preheat grill for high heat and lightly oil. Place meat on the grill and lightly brush the garlic-vinegar mixture. Cook meat for 4 minutes, flip, and baste. Repeat this process every 4 minutes until beef starts to firm and is reddish-pink and juicy in the center. Roughly 25-30 minutes. An instant meat thermometer inserted into the center should read 130 degrees. Let rest for 10 minutes off the grill and slice.
5. Wash all salad ingredients, and begin by chopping romaine lettuce, green onions, tomatoes, and yellow peppers. Layer romaine lettuce, arugula, and spinach onto the plate. Add sliced meat, sprouts, green onions, tomatoes, and yellow peppers. Garnish with avocado and lime. Lastly, finish this Tri-Tip salad with Bachan's Original Japanese Barbecue Sauce.
ingredients
Tri-Tip
2 pound Tri-Tip
1 ½ teaspoon paprika
1 teaspoon onion powder
2 teaspoons garlic powder
2 teaspoons salt
2 teaspoons pepper
1 teaspoon dried rosemary
¼ teaspoon cayenne pepper
⅓ cup red wine vinegar
⅓ cup vegetable oil
4 cloves of garlic
½ teaspoon dijon mustard

Salad
romaine lettuce
arugula
spinach
sprouts
green onions
tomatoes
yellow peppers
avocado
lime
Bachan's Original Japanese Barbecue Sauce

Protein Prep Time: 4-5 hours
Prep Time: 40 Minutes
Cook Time: 25-30 Minutes
Serves: 4-8 People