Soy Curl Rice Noodles
Posted by Ecomm Admin on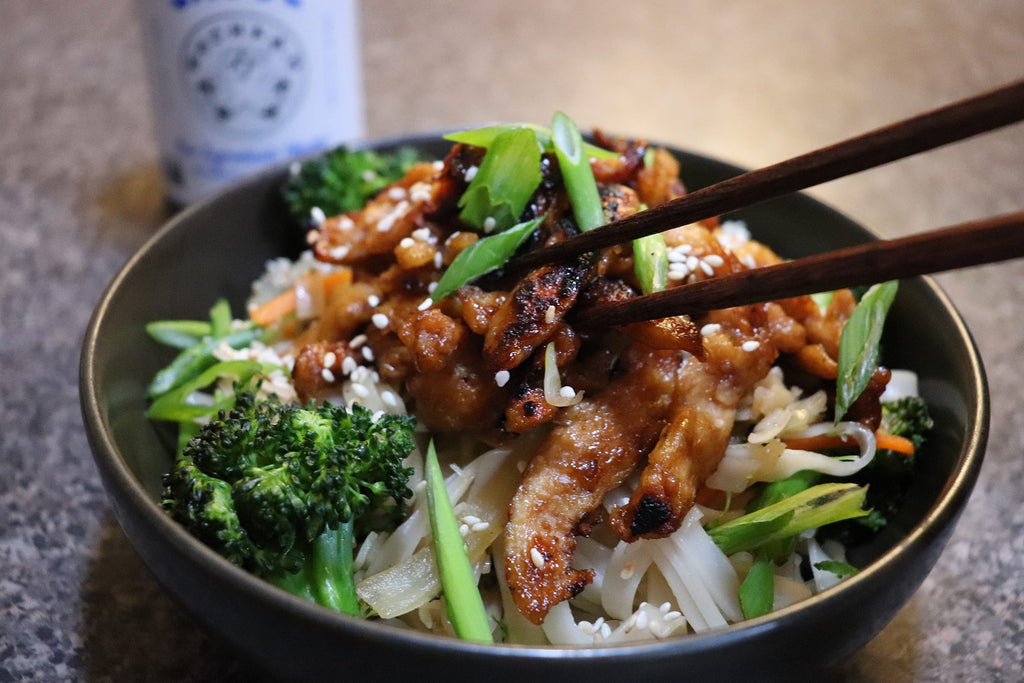 Directions
1. In a glass or metal bowl mix together dried soy curls, vegan beef bouillon powder, vegan Worcestershire sauce, 2 cups hot water. Let sit for 10 minutes then drain or strain in a colander.
2. Sprinkle corn starch on the seasoned soy curls, toss to coat, then cook in a frying pan over medium high heat with avocado oil for 10 minutes. Flip half way. Turn off heat and pour on Bachan's.
3. While the soy curls are soaking and then cooking prep the rest of your noodle bowl ingredients. Broccoli, minced garlic, coleslaw veggies, green peas, rice noodles, or any veggies you have available.
4. Once the soy curls are in the frying pan start to cook your veggies and rice noodles in a wok or large pan. Serve with soy curls on top, a sprinkle of toasted sesame seeds, sliced green onions, and a drizzle or more of Bachan's!
5. Serve and enjoy an easily prepped and executed delicious vegan meal :-)
Recipe provided by @crowmoonkitchen
ingredients
8 ounces dried soy curls
1 tablespoon vegan beef bouillon powder
1 tablespoon vegan Worcestershire sauce
2 cups hot water
¼ cup corn starch
1 tbsp avocado oil
¼ cup Bachan's
broccoli
minced garlic
coleslaw veggies
green peas
rice noodles
toasted sesame seeds
sliced green onions
Prep Time: 15 Minutes
Cook Time: 15 Minutes
Serves: 2 People