Spicy Wonton Cups
Posted by Ecomm Admin on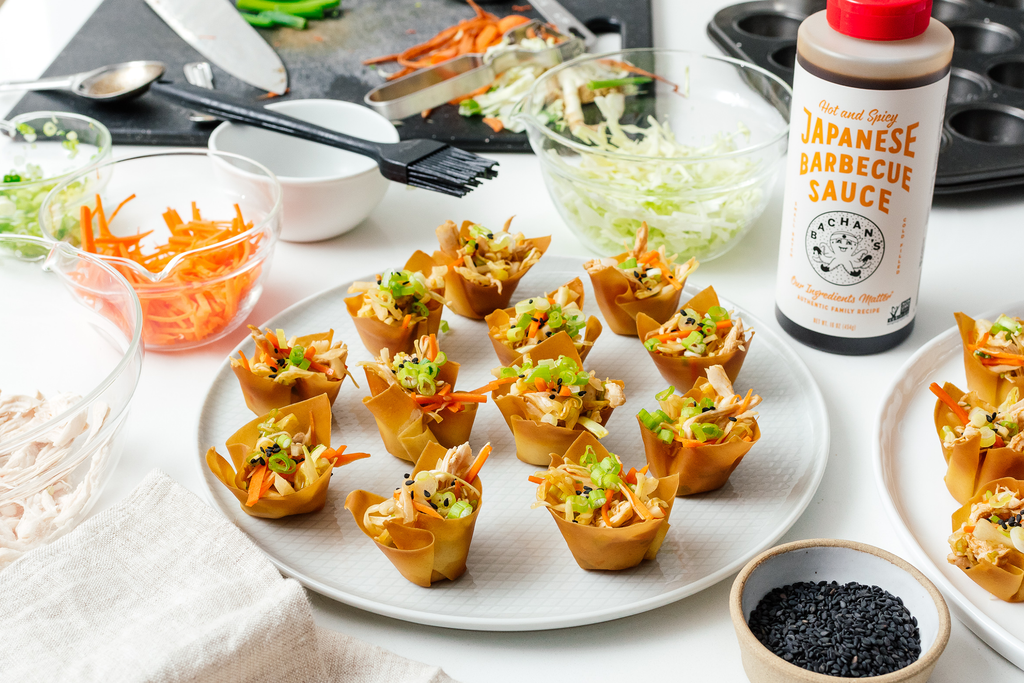 Directions
1. Heat the oven to 325°F. Place the wonton wrappers into a muffin tin, shaping it to the cup. Bake for 12-15 minutes or until lightly golden and crispy. Remove from the oven and let cool completely in the muffin tin.
2. Whisk together Bachan's Hot and Spicy Barbecue Sauce, rice vinegar, toasted sesame oil, and sugar until combined.
3. Toss the chicken, cabbage, carrots, and green onions in a large bowl and dress with the spicy Bachan's dressing.
4. Divide the salad between the crispy wonton cups and finish with toasted sesame seeds. Enjoy immediately!
ingredients
2 tbsp Bachan's Hot and Spicy Japanese Barbecue Sauce
24 wonton wrappers
1 tbsp rice vinegar
2 tsp toasted sesame oil
1 tsp sugar
1.5 cups shredded cooked chicken
1.5 cups shredded cabbage
3/4 cup julienned carrots
1/3 cup thinly sliced green onions
1 tsp toasted sesame seeds

Prep Time: 20 Minutes
Cook Time: 15 Minutes
Serves: 12