Yuzu Smashed Cucumber Salad
Posted by Ecomm Admin on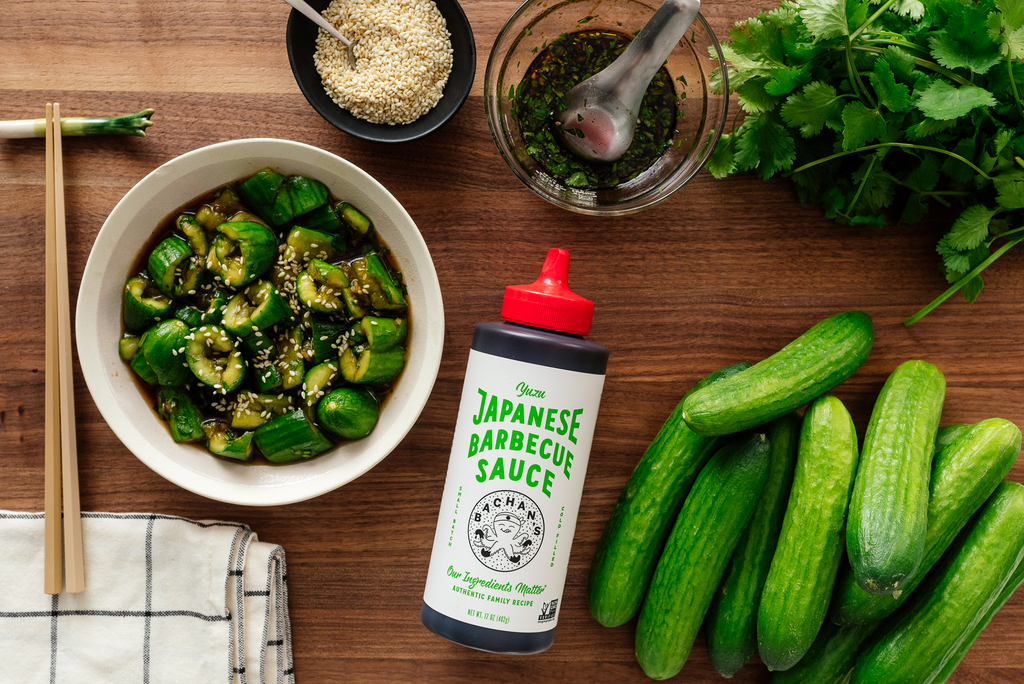 Directions
1. Wash and dry the cucumbers. Lay the cucumbers down on a cutting board and use the flat of a large knife to lightly smash the cucumber until it cracks open. Alternatively, use a wooden rolling pin to lightly smash until the cucumber splits. Once the cucumber is smashed, cut it into bite sized pieces, angling each cut.
2. Place the smashed cucumbers to a large bowl and add a generous pinch of salt. Toss and let sit for 10 minutes, then rinse and drain off the excess cucumber liquid.
3. While the cucumbers are sitting, make the dressing: whisk together Bachan's Yuzu Barbecue Sauce, garlic, toasted sesame oil, chopped cilantro, and toasted sesame seeds.
4. Add the dressing to the rinsed cucumbers and toss to coat well. Finished with extra toasted sesame seeds and chopped cilantro, if desired, and enjoy
ingredients
2 tbsp Bachan's Yuzu Japanese Barbecue Sauce
3 small Persian cucumbers (or 1 large seedless English cucumber)
1/2 tsp salt
2 cloves garlic, smashed and minced
1 tsp toasted sesame oil
2 tbsp freshly chopped cilantro
1 tsp toasted sesame seeds

Prep Time: 20 Minutes
Cook Time: N/A
Serves: 2