Yuzu Veggie Skewers
Posted by Ecomm Admin on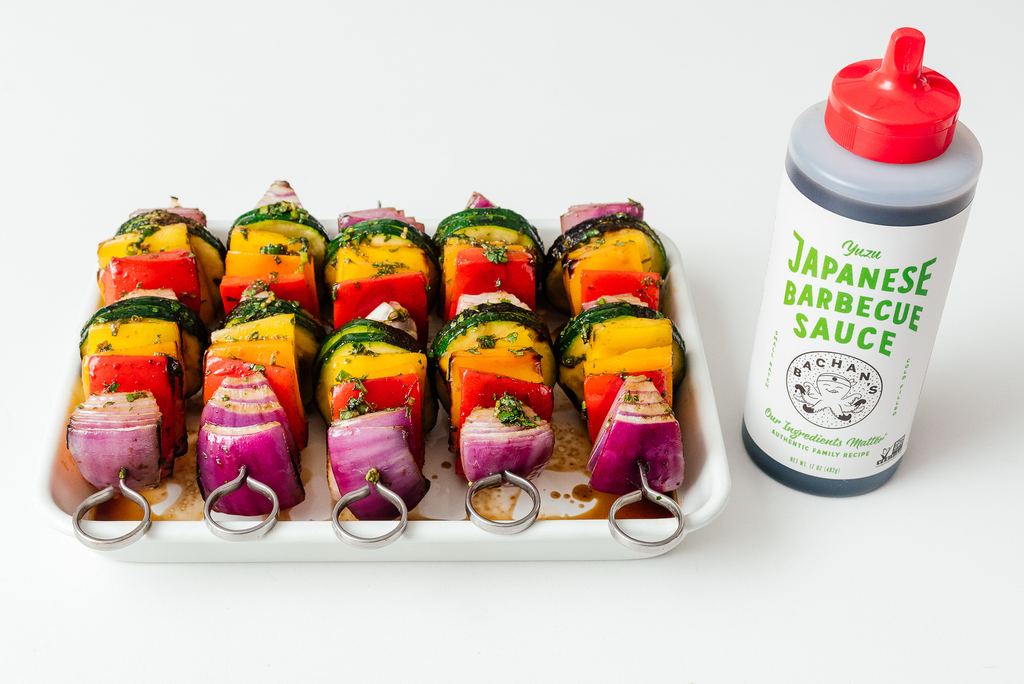 Directions
1. Peel the red onion and sliced in half. Cut each half in thirds, keeping the slices together. Seed and cut the bell peppers into 1 inch x 1 inch pieces. Cut the zucchini into rounds.
2. Skewer the vegetables: red onion, red bell pepper, orange bell pepper, yellow bell pepper, green bell pepper, then zucchini. Brush the skewers lightly with oil.
3. Make the sauce by mixing together Bachan's Yuzu Barbecue Sauce, green onions, and cilantro. Set aside.
4. Heat the grill to medium high and brush the grill with oil. Grill the skewers for 5-8 minutes, flipping as needed, or until the vegetables start to caramelize and brown.
5. Remove from the heat and brush generously with the Yuzu Bachan's mix. Enjoy immediately.
ingredients
1/4 Cup Bachan's Yuzu Japanese Barbecue Sauce
4 medium red onions
2 red bell peppers
2 orange bell peppers
2 yellow bell peppers
4 medium zucchini
2 tbsp neutral oil
1/4 cup thinly sliced green onions
2 tbsp freshly chopped cilantro
12 soaked wooden or metal skewers

Prep Time: 30 Minutes
Cook Time: 15 Minutes
Serves: 4 People