BACHAN'S CRISPY TOFU TACOS
Posted by Roswell Studios on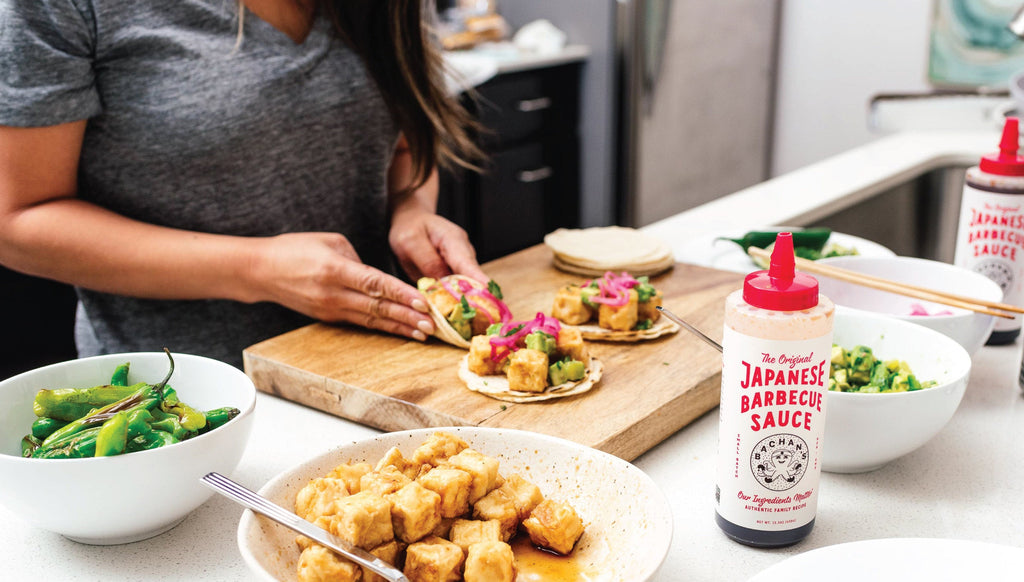 Directions
1. Slice half of the onion, then chop the remaining half and reserve.
2. Make the pickled onions by tossing the onion slices in the rice vinegar, sugar, and 1/2 teaspoon salt. Let sit for 15 minutes, tossing occasionally until onions are soft and very pink.
3. Meanwhile, drain the tofu on paper towels then cut into 1/2 inch cubes. Toss the tofu evenly in the cornstarch and 1/4 teaspoon salt.
4. Heat up at least 2 inches of a neutral, high heat oil in a deep cast iron or heavy bottomed pot over medium heat until 350°F.
5. Carefully add the tofu to the oil in batches and cook, stirring occasionally, until the tofu is crisp and lightly golden. Remove from the oil with a slotted spoon and drain on a rack or paper towels.
6. Toss the tofu cubes with the Bachan's sauce.
7. Assemble the tacos: grill or warm the tortillas then top with tofu, chopped red onions, cilantro, avocado, and jalapeños. Drizzle on Bachan's sauce to finish.
ingredients
1 red onion
2 tbsp rice vinegar
1 tbsp sugar
1 package firm tofu
1/2 cup non-gmo cornstarch
1/4 tsp salt
oil for deep frying
1/2 cup Bachan's Japanese Barbecue Sauce
tortillas
cilantro
sliced avocado
sliced jalapeños
Prep Time: 20 min.
Cook Time: 20 min.
Serves 4-5