BACHAN'S FLIP RIB BAHN MI
Posted by Robert Van Horne on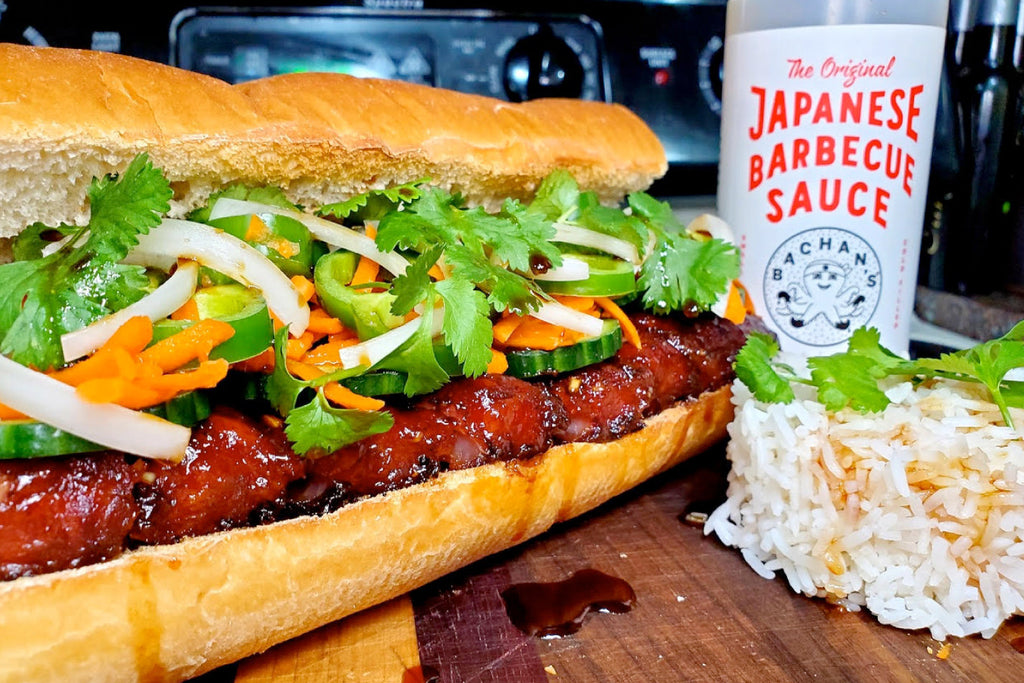 Directions
1. Take off membrane on the back side of ribs and pat dry. Squeeze a healthy amount of Bachan's sauce on ribs and rub in as a binder. Take your favorite rib seasoning (I used SPG from Spiceology and Neil's Sarap Dayum Rub) and give it a good work over.
2. Set your smoker at 250 degrees and put the ribs in, bone side down for 3hrs. Spray them every 45 mins to an hour w/ 50/50 apple cider vinegar/water.
3. Pull ribs off after 3 hrs and prepare to wrap in foil (or butcher paper). Take 4 thin slices of butter, 1 cup of brown sugar, and a healthy squeeze of Bachan's sauce to cover. Then place ribs meat side down and repeat the process on top (bone side). Place back in the smoker for another 2 hours.
4. Prepare your sauce and add it to a small pot at low heat. Take your 2 tbsp cornstarch / 2 tbsp water and mix. Then place in sauce and whisk all together.
5. Pull ribs out of foil and pour sauce on front and back. Then put it back in the smoker meat side up for another hour til you hit an Internal Temp of 195-205 degrees.
6. Prepare all your veggies
7. Once ribs are done, put it on rack meat side down to pull the bones off. Slice the outside part of the bone to pull off easier and cut it to fit your sandwich just right.
8. Toast your bread (I used french roll) and get ready to put it all together.
9. Add one more healthy squeeze of Bachan's sauce and ENJOY the FlipRib!* for that FlipSterBBQ twist, make yourself a #sideofrice to go with your sandwich! #TeamSideofRice   
Recipe provided by Rommel Manio @flipsterbbq
ingredients
Rack of ribs
Bachan's
Seasoning of your choice (used SPG from Spiceology and Neil's Dayum Rub) 
Foil Wrap
8 thin slices of unsalted butter 
2 cups of brown sugar 

Sauce
1/2 cup Bachan's sauce
1/4 cup honey
1/4 cup soy sauce
4 tsp rice vinegar
3 tsp hot sauce (used Dakine's)
2 tsp sesame oil
6-8 cloves of minced garlic
2 tbsp of cornstarch and water mix

Add Ons
Carrots
Cilantro
Cucumber
Onions
Jalapeno Peppers

Prep time: 30 minutes
Cook time: 6 hours
Serves 4 people