Bachan's Guinness Stew
Posted by Ecomm Admin on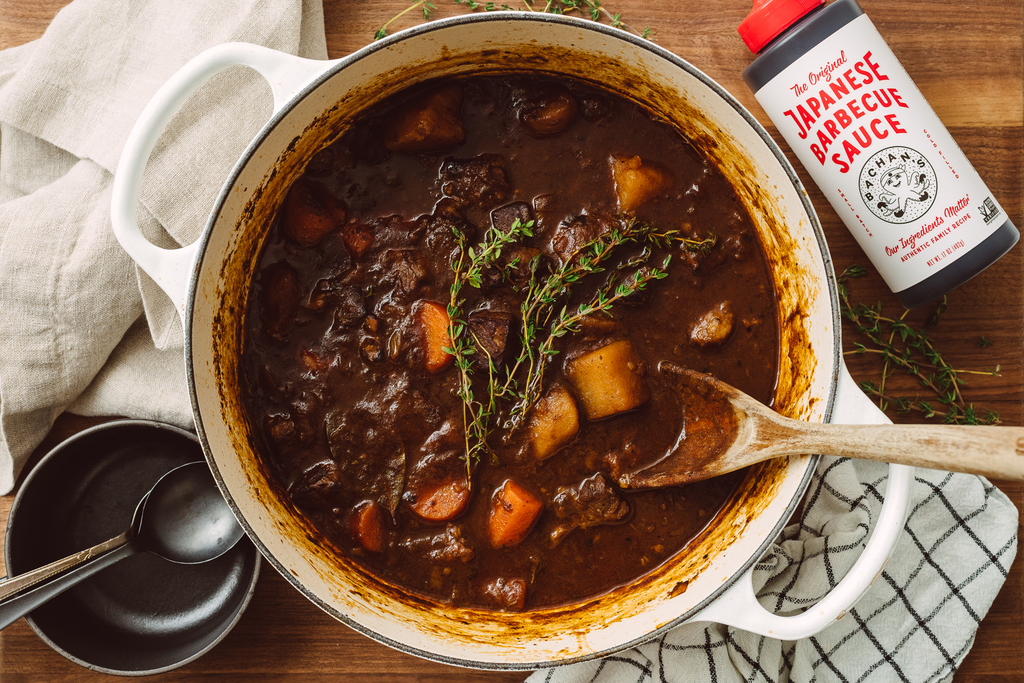 Directions
1. Cut the beef into 2 inch chunks and lightly pat dry. Season all over with salt and freshly ground pepper.
2. Heat the oil in a heavy bottomed pot or dutch oven over high heat. Deeply brown the beef, flipping as needed. When brown, remove and set aside in a large bowl or plate.
3. Lower the heat to medium and add the onion and garlic and cook, stirring, until soft and fragrant.
4. Add the beef back into the pot (including any juices). Sprinkle on the flour and stir to coat. Cook, stirring occasionally, until flour is cooked through, about 2-3 minutes. Stir in the tomato paste and cook until the tomato paste turns a deep dark red, another 2-3 minutes. Add 1 cup water and deglaze the bottom of the pan with a wooden spoon or spatula.
5. Add another 2 cups of water, Guinness, and Bachan's Japanese Barbecue Sauce. Once the stew comes back up to a simmer, add the bay leaves, thyme, carrots and potatoes. The liquid should just cover the beef and vegetables. If needed, add a bit more water to cover.
6. Lower the heat to a gentle bubbling simmer. Cook, partially covered for 2 hours, then remove the lid and simmer for another 30 minutes or until the beef is fall apart tender and the stew is thickened to your liking.
7. Remove the bay leaves and thyme and season with salt and freshly ground pepper. Add fresh thyme as a garnish if desired. Enjoy!
ingredients
1/4 cup Bachan's Original Japanese Barbecue Sauce
2 tbsp neutral oil
1.5 lbs beef stewing meat (chuck, round, sirloin, shank, or brisket)
3 cloves garlic, minced
1 onion, chopped
3 carrots, peeled and cut into large pieces
2 large potatoes, cut into large pieces
3 tbsp flour
1/4 cup tomato paste
16 oz Guinness
2 bay leaves
3 sprigs fresh thyme

Prep Time: 10 Minutes
Cook Time: 3 Hours
Serves: 4