Bachan's Herb Stuffed Porchetta
Posted by Ecomm Admin on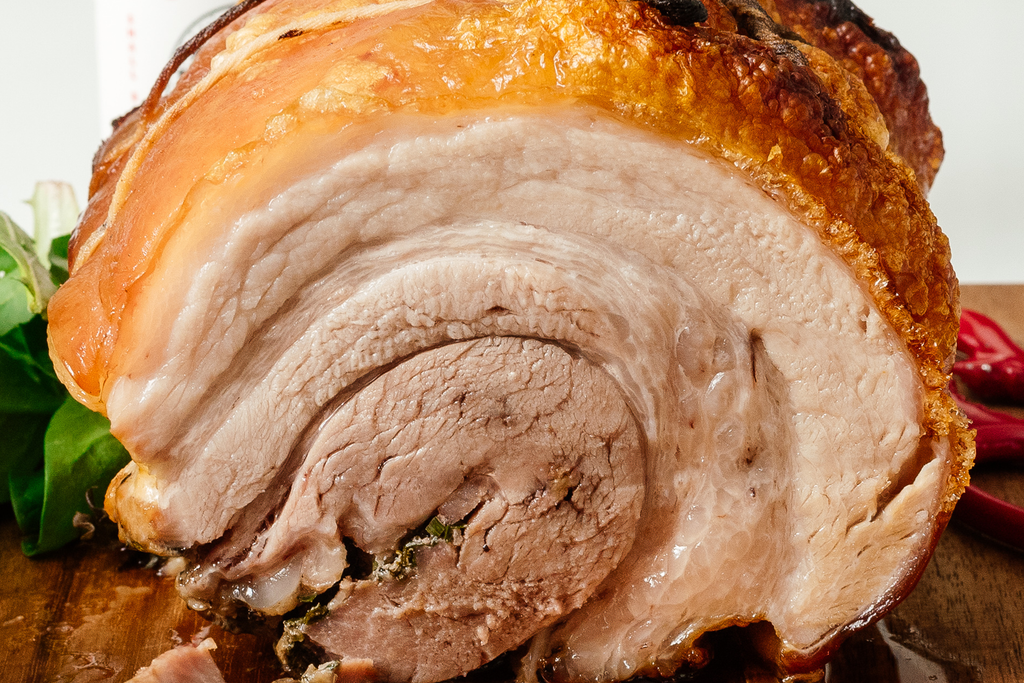 Directions
1. Make the lemon garlic mix: in a small bowl, mix together Bachan's Japanese Barbecue Sauce with garlic, black pepper, and lemon zest.
2. Lightly score the meat side of the pork belly and rub generously with the lemon-garlic mix. Sprinkle on the chopped flat leaf parsley and rosemary. Wipe off any excess sauce on the outer skin side.
3. Roll up the pork belly and use kitchen twine to tie it up into as tight of a roll as possible. Wrap with plastic wrap and let rest for 2 hours or in the fridge overnight.
4. When you are ready to bake, remove the roll from the fridge while you heat the oven to 300°F. Remove the plastic wrap and pat dry with paper towels. Place the pork belly on a rack in deep roasting dish. Roast, on the center rack, for 2 to 2.5 hours or until the internal temperature reaches 160°F.
5. Turn the heat up to 450°F and roast for another 20-25 minutes, or until the crackling is golden brown and crispy. Remove from the oven and glaze with Bachan's Japanese Barbecue Sauce. Let rest for 20 minutes, remove the string, slice, and enjoy warm with extra Bachan's to drizzle.
ingredients
2 tbsp Bachan's Original Japanese Barbecue Sauce
4 cloves garlic, minced
2 tsp freshly ground black pepper
zest of 1 lemon
2 tbsp chopped flat leaf parsley
2 tbsp fresh roughly chopped rosemary
12 inch slab skin on pork belly, about 3-3.5 lbs

Prep Time: 20 Minutes
Cook Time: 5 Hours
Serves: 8