Bachan's Pigs in a Blanket
Posted by Ecomm Admin on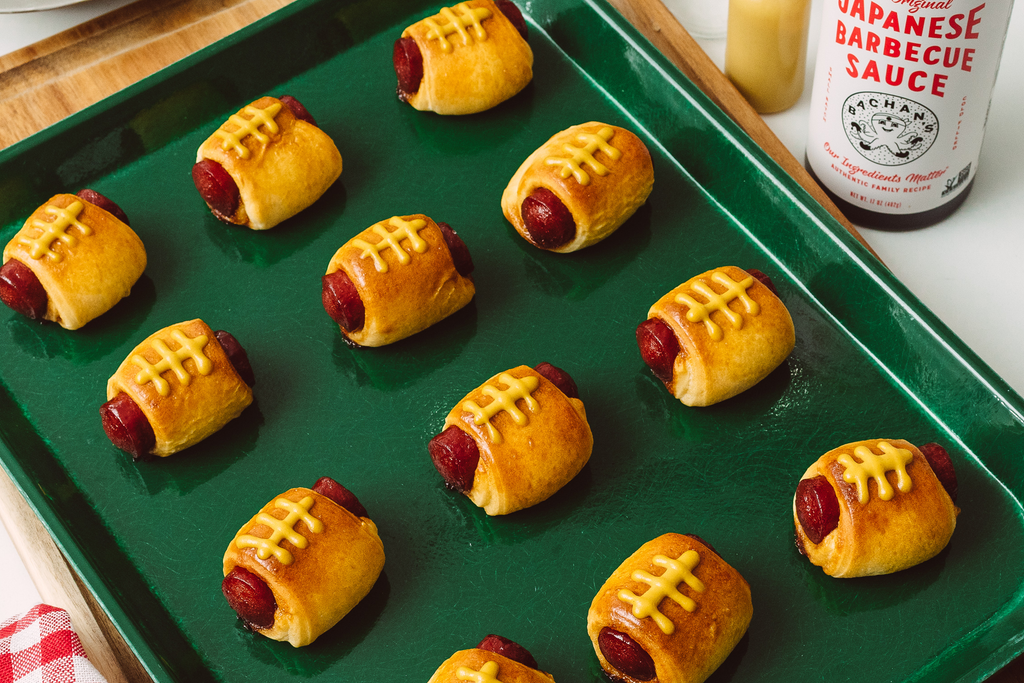 Directions
1. Place the smokies along with the brown sugar, ketchup, and Bachan's Japanese Barbecue Sauce into a small pot. Bring to a simmer over low heat for 15 minutes, stirring occasionally. In a small bowl, whisk the cornstarch with 1 tbsp of water and then add to the sauce. Bring to a simmer and stir, until the sauce thickens and glazes the smokies. Let cool completely.
2. Heat the oven to 375°F. Line a baking sheet with parchment paper.
3. Open the crescent rolls on a lightly floured surface and separate the sheet at the perforations. Cut each triangle lengthwise into 3 smaller, narrow triangles for a total of 24 triangles.
4. Place a saucy smokie on the short side of the triangle (the base) and roll the dough around the sausage. Place seam-side down on the prepped baking sheet.
5. Whisk the egg with 1 tbsp water and brush the tops of the pigs in a blanket. Bake for 12-15 minutes, or until golden brown. Enjoy warm served with extra Bachan's Japanese Barbecue Sauce for dipping.
ingredients
1/4 Cup Bachan's Original Japanese Barbecue Sauce
2 tbsp brown sugar
2 tbsp ketchup
1 tsp cornstarch
8 hot dogs, cut in half with ends trimmed or 24 mini cocktail sausages, weenies, or smokies
1 tube crescent rolls
1 egg, optional

Prep Time: 10 Minutes
Cook Time: 30 Minutes
Serves: 6