Bachan's Salsa Verde
Posted by Ecomm Admin on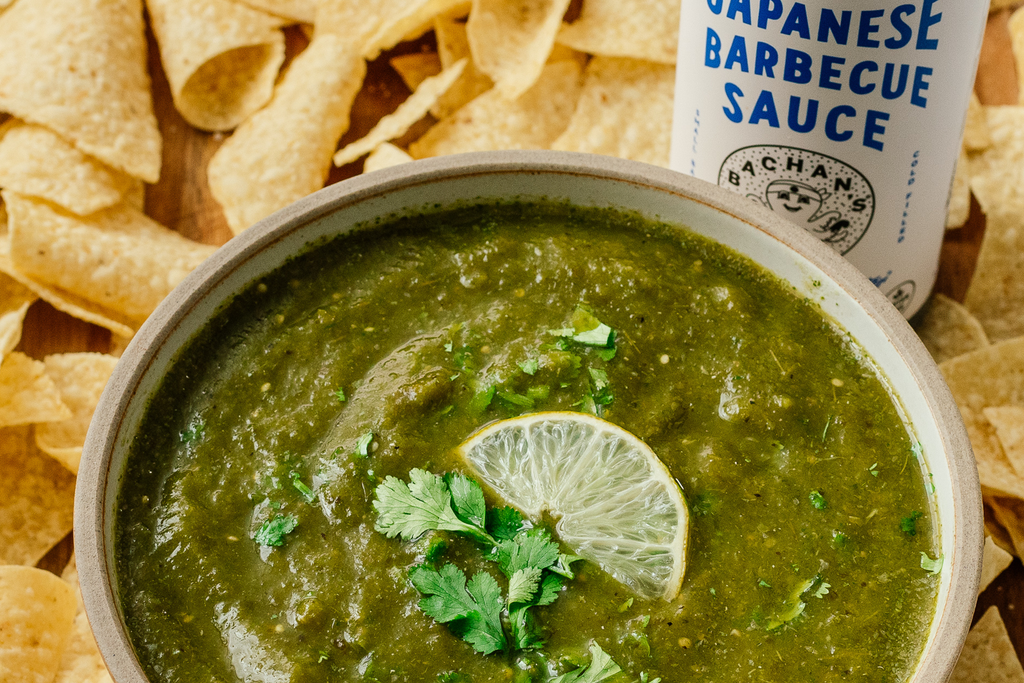 Directions
1. Set the oven to broil. Remove the casings from the tomatillos, wash and dry. Wash and dry the green chiles as well.
2. Place the dried tomatillos and chiles in a roasting dish. Roast for 10-15 minutes, or until the tomatillos soften and the peppers blister. Flip as needed to ensure even roasting.
3. Move the roasted chiles to a bowl and cover with a plate to steam for at least 15 minutes, or until cool. When cool enough to handle, rub off the skins, then remove the stems and seeds.
4. Place the roasted peppers, tomatillos, onion, garlic, cilantro, and Bachan's Gluten Free Barbecue Sauce into a blender and blend until slightly smooth. Add water as necessary if the salsa seems too thick. Taste, adjust the seasoning and enjoy with tortilla chips!
ingredients
2 tbsp Bachan's Gluten Free Japanese Barbecue Sauce
1 lb tomatillos, dehusked and cleaned
2-4 green chiles of choice (such as jalapeño, serrano, Anaheim, Poblano)
1/4 onion, chopped
3 cloves garlic
1 cup roughly chopped cilantro
1 tbsp lime juice
tortilla chips, to serve

Prep Time:
5 Minutes
Cook Time:
20 Minutes
Serves:
4