Bachan's Smashed Pork Sliders
Posted by Robert Van Horne on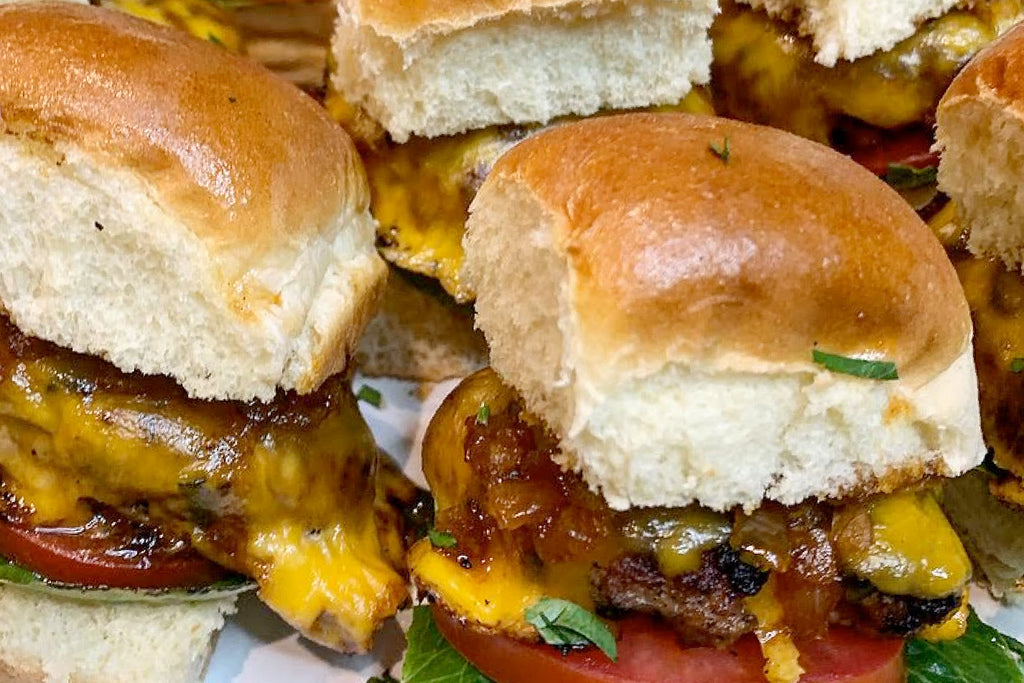 Directions
1. Add oil to pan then cook down onions & garlic until translucent—about 5 minutes. Add remaining ingredients to make the simple barbecue sauce.
2. Add 1 tbsp. of olive oil to pan, add bacon, shallots & minced garlic and cook over medium heat until bacon is cooked through. Set aside and let cool (5 minutes).
3. Add ground pork, 2 tbsp. of Bachan's, 3 tbsp. of Bacon medley, 2 tbsp. of chopped parsley, 1 tbsp. of chopped green onion, 1 1/2 tbsp. of favorite rub (I like Tailgaters BBQ Party Rub), and mix all items until well incorporated. Form 10 pork balls.
4. Add remaining olive oil to hot pan and add the 10 balls—smashing them down until they are nice and even. Cook 2-3 minutes each side forming a nice crust.
5. Add cheddar slices, and cover until cheese is melted. Pull the patties out and layer your sliders with bottom bun layered with mayo, baby lettuce, tomato slice, and the pork patty. Top off with a spoonful of barbecue sauce and add the top bun. Serve with some crispy fries!
Recipe provided by Carlos Hernandez @cocina_dez
ingredients
Pork Sliders
1 pound of ground pork
2 tbsp Bachan's
2 tbsp chopped parsley
1 tbsp chopped green onion
1 1/2 tbsp favorite rub (I like Tailgaters BBQ Party Rub)

Bacon Medley
3 tbsp Bachan's
3-4 strips bacon chopped
2 tbsp minced shallots
2 tbsp minced garlic

Simple Barbecue Sauce
1 medium onion chopped
3 cloves of garlic (smashed & minced)
1 tbsp brown sugar
1 tbsp apple cider vinegar
3 tbsp Bachan's
1 1/2 tbsp Worchestershire sauce
2 tbsp olive oil
1 tbsp paprika, salt & pepper to taste)

10 Hawaiian rolls
10 baby leaves
10 cheddar slices
10 Roma tomato slices

Prep time: 25 minutes
Cook time: 20 Minutes
Serves 4-5 people