Bachan's Steak for Two
Posted by Ecomm Admin on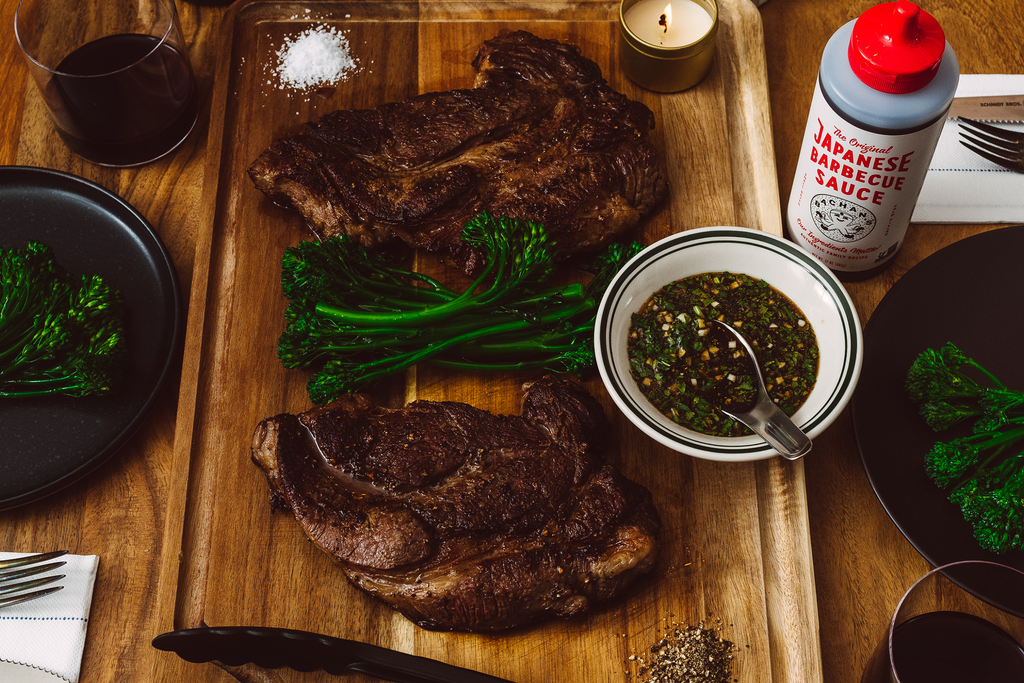 Directions
1. Heat your oven to 200°F or as close as it can get. Season the steaks on both sides with salt and freshly ground pepper.
2. Arrange the steaks on a foil lined baking tray. Add the steaks to the oven and let warm for 40 minutes or until the middle of the steaks hit 115°F on a meat thermometer.
3. Combine the cilantro, garlic, Bachan's Japanese Barbecue Sauce, toasted sesame oil, and rice vinegar in a small bowl and let rest so the flavors meld.
4. When the steak reaches 115°F, heat up 2 tbsp of a high heat oil in a large cast iron or skillet until the oil is extra hot, shimmery, and on the verge of smoking. Quickly sear the steaks, 30 seconds to 1 minute per side.
5. Remove the steak from the pan when seared and repeat with the second steak. Let the steaks rest for 5 minutes, then slice against the grain and enjoy with the chimichurri sauce.
ingredients
2 tbsp Bachan's Original Japanese Barbecue Sauce
2 steaks of choice
1/4 cup chopped cilantro
2 cloves garlic, crushed
2 tsp toasted sesame oil
1 tsp rice vinegar

Prep Time: 5 Minutes
Cook Time: 1 Hour
Serves: 2