BACHAN'S THAI BBQ SAUSAGE
Posted by Robert Van Horne on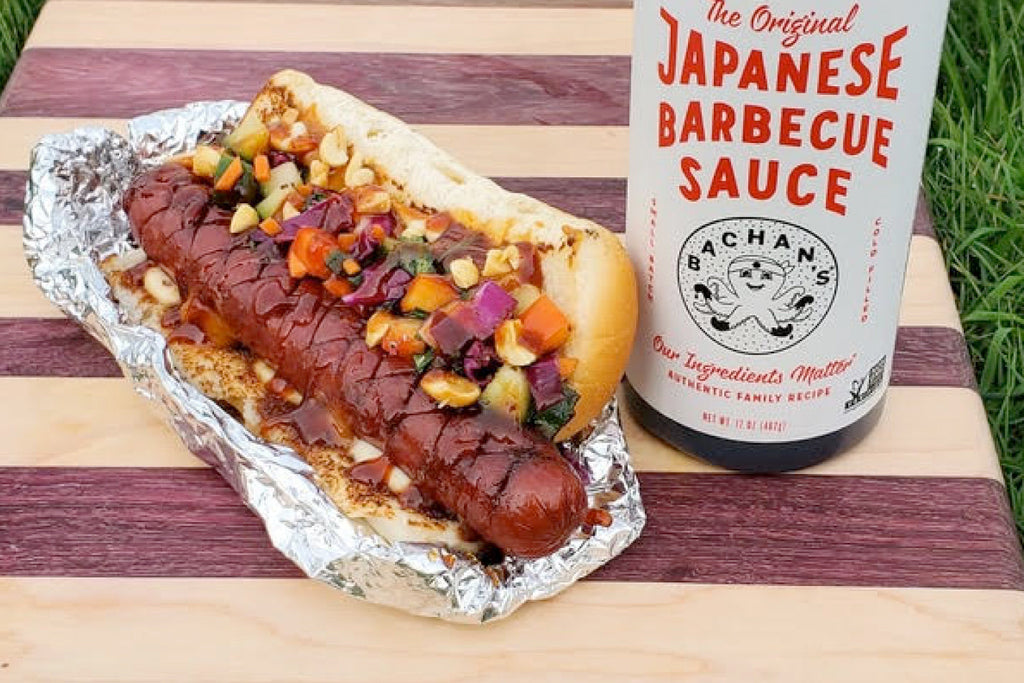 Directions
1. Fire Up The Grill
2. Clean & Cut Up Veggies for the Thai Salad and throw in a bowl.
3. Add Squeeze of Lime, Sriracha, Sesame Oil, Rice Vinegar, Sweet Thai Chili Sauce, S&P. Mix & Taste. Adjust seasoning to taste, let it sit so the flavors can develop.
4. Score/ Slice Diamond Pattern on the Sausage and Baste with Bachan's Japanese BBQ Sauce
5. Grill the Sausages
6. Toast Bun
7. Place the Sausage in Toasted Bun and top with Thai Salad, Thai Peanut Sauce & MORE Bachan's. TIME TO EAT.
Recipe provided by Cheree @eatwithme_xyz
ingredients
Bachan's
Thai Peanut Sauce
4 Sausage Dogs
Buns

Thai Salad
1/2 Cup Chopped Cucumber
1/2 Cup Diced Carrot
1/2 of Red Bell Pepper Diced
1/2 Cup Chopped Red Cabbage
1/2 teaspoon Sesame Oil
1 Tablespoon Rice Wine Vinegar
1 Tablespoon Sweet Thai Chili Sauce
Half of Lime Squeezed
Salt & Pepper To Taste
Squeeze of Sriracha
Handful of Chopped Cilantro

Prep time: 5 minutes
Cook time: 5-10 Minutes
Serves 4 people