Beef Chow Fun
Posted by Ecomm Admin on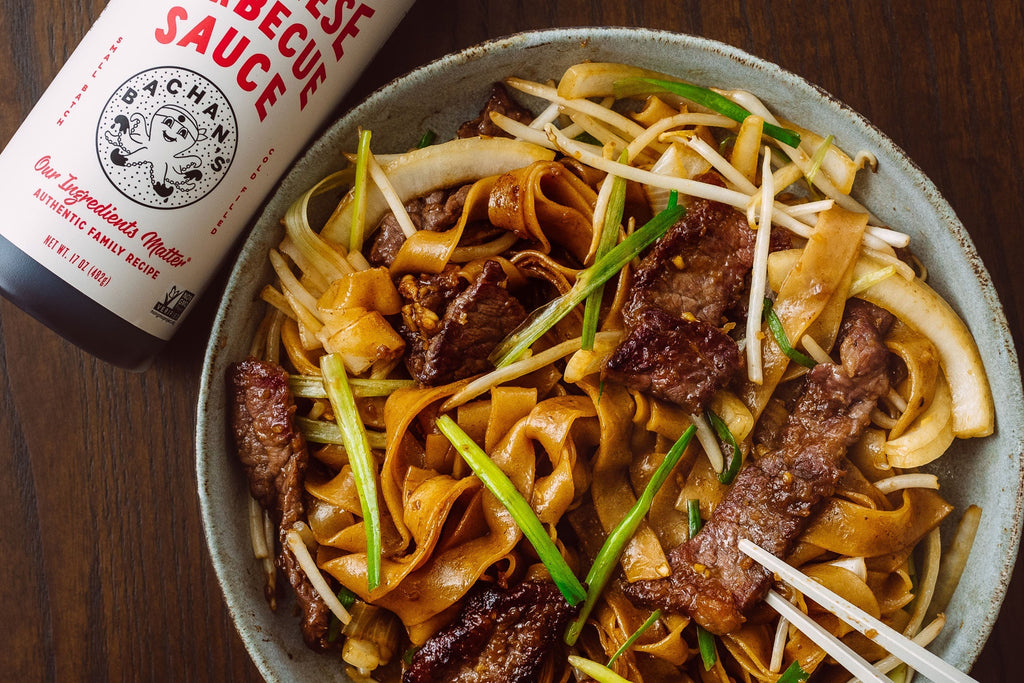 Directions
1. Marinate the beef: Massage the beef with cornstarch and 1 tbsp Bachan's Japanese Barbecue Sauce. Set aside to marinate while you prep the rest of the ingredients.
2. Prepare the sauce: Combine the remaining Bachan's Japanese Barbecue Sauce with dark soy sauce (if using), sugar, and 2 tbsp water. Mix well and set aside.
3. Prepare the noodles: Cook (or soak) the rice noodles according to the package instructions, then rinse, drain, spread out onto a lightly oiled plate, and set aside.
4. Heat a wok over high heat until smoking, then add 1.5 tbsp oil. Swirl to coat. Add the marinated beef and cook until browned, stirring as needed. Scoop the beef out and set aside.
5. Add the remaining oil to the wok, then add garlic and ginger. Stir briefly, then add the noodles to the wok, in an even layer. Add the sauce in and toss to coat.
6. Add the remaining ingredients: onion, bean sprouts, green onions and beef. Toss over high heat until everything is combined and saucy. Enjoy immediately.
ingredients
1/4 Cup Bachan's Original Japanese Barbecue Sauce
8 ounce beef of choice, thinly sliced (flank steak recommended)
1 tsp cornstarch
2 tsp dark soy sauce, optional
1 tsp sugar
7-8 ounces dried wide rice noodles
3 tbsp neutral oil
2 cloves garlic, minced
1 tsp fresh minced ginger
1/4 onion, sliced
1 cup bean sprouts
4 green onions, cut into 3 inch lengths

Prep Time: 15 Minutes
Cook Time: 5 Minutes
Serves: 2