Crispy Veggie Egg Rolls
Posted by Ecomm Admin on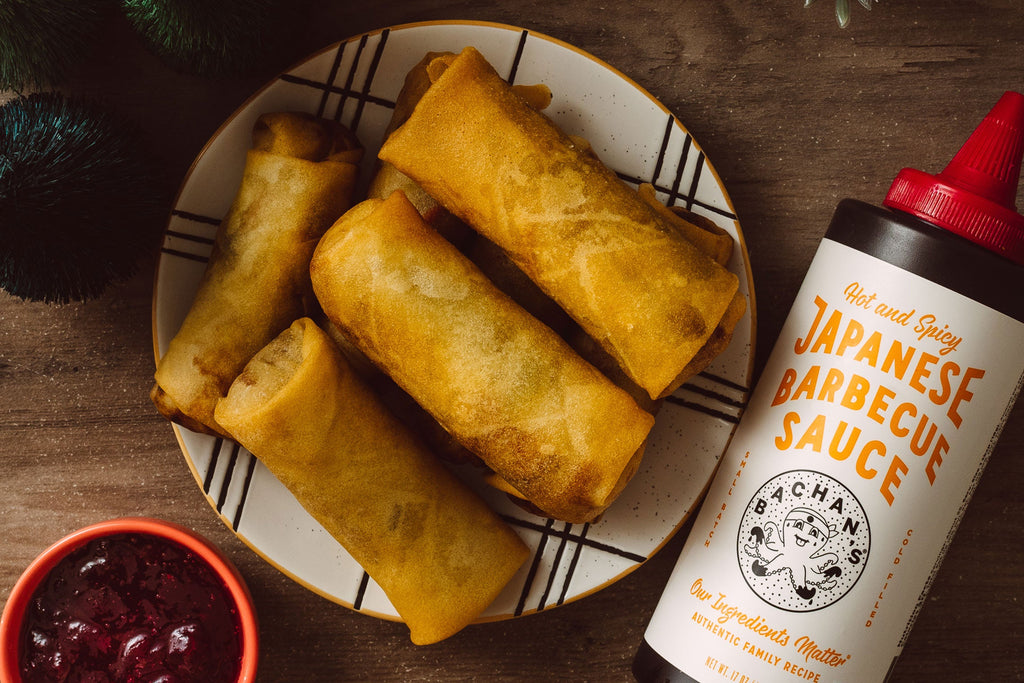 Directions
1. Make the egg roll filling: heat up 2 tsp oil over medium high heat in a large frying pan. When hot, stir in the ginger and garlic. Cook, stirring, for 1 minute. Add the cabbage, carrots, mushrooms, and green onions. Cook, stirring occasionally, until soft and tender, but not browned. Take the pan off the heat and stir in 1 tbsp Bachan's Hot and Spicy Barbeque Sauce. Taste and season with salt, pepper, and extra Bachan's Hot and Spicy Barbeque Sauce if desired. Let cool completely.
2. Make the egg rolls: place an egg roll wrapper on a cutting board in front of you, laid out as a diamond. Make an egg wash by cracking an egg into a small bowl and lightly beating.
3. Add 1.5 tbsp filling near the corner closest to you. Fold the corner up towards the top corner so it hugs the filling.
4. Fold in the two opposite corners in, like an envelope.
5. Lightly brush the top remaining corner with egg wash, then complete the roll, making sure everything is tucked and tight. Repeat as needed, keeping the egg rolls underneath plastic wrap or a lightly moistened towel to keep them from drying out.
6. In a deep, heavy bottom pot, add about 3 inches of neutral, high heat oil such as canola, peanut, or grapeseed oil. Bring the oil to 325°F over medium high heat. Fry the rolls in batches, flipping as needed, until golden brown, about 5 minutes. Drain on a wire rack and let cool slightly before enjoying dipped in spicy cranberry sauce.
To make the spicy cranberry dipping sauce: mix 2 tbsp Bachan's Hot and Spicy Barbeque Sauce with 1/4 cup cranberry sauce.
ingredients
3 tbsp Bachan's Hot and Spicy Japanese Barbecue Sauce
2 tsp neutral oil
2 tsp minced ginger
2 tsp minced garlic
6 cups shredded cabbage
2 cups shredded carrots
1 cup thinly sliced shiitake or button mushrooms
1/4 cup sliced green onions
16 egg roll wrappers
1 egg, lightly beaten
neutral high heat oil for deep frying
1/4 cup cranberry sauce

Prep Time: 40 Minutes
Cook Time: 20 Minutes
Serves: 4