Gameday Mozzarella Sticks
Posted by Ecomm Admin on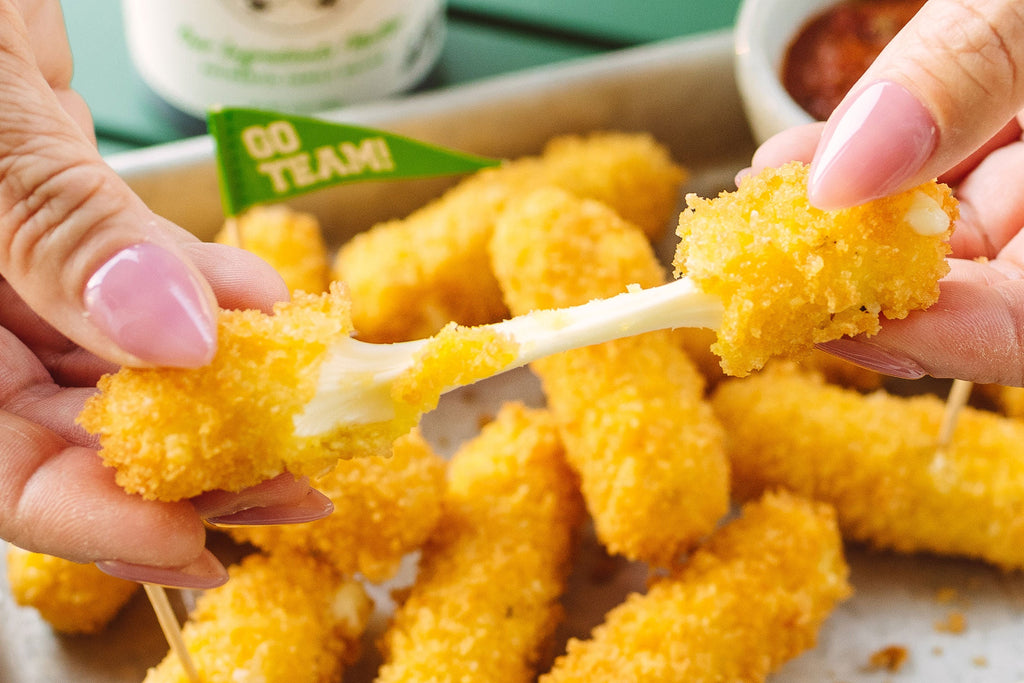 Directions
1. Make the yuzu marinara: Heat the oil in a small sauce pan over medium high heat. When hot, stir in the garlic and cook, until soft, but not brown. Stir in the crushed tomatoes and oregano. Bring to a simmer, then turn the heat down, cover, and reduce slightly. Keep warm while making the mozzarella sticks. Immediately before serving, stir in Bachan's Yuzu Barbecue Sauce.
2. Set up the breading stations: lightly beat the eggs in a wide shallow bowl. In another bowl, stir together the panko and powdered garlic. Finally In a third bowl, stir together the flour, cornstarch, salt, and pepper.
3. Dip each mozzarella cheese stick in the flour, then egg, then panko, pressing to adhere evenly. Repeat the process to create a double breading. Let rest on a plate while you heat up the oil.
4. Heat 2 inches of oil to 365°F in a deep, heavy bottomed pot over medium high heat.
5. Fry the mozzarella sticks, 3-4 at a time until golden, being careful not to crowd the pan. Use a wire spider strainer to pull the mozzarella sticks out of the oil. Drain on a wire rack. Enjoy hot, dipped into the yuzu marinara.
ingredients
2 tbsp Bachan's Yuzu Japanese Barbecue Sauce
1 tbsp olive oil
3 cloves garlic, minced
14 ounce can crushed tomatoes
1/2 tsp dried oregano
16 mozzarella string cheese sticks, cut in half
2 large eggs
1.5 cups panko
1/2 tsp powdered garlic
2/3 cups all purpose flour
1/3 cup cornstarch
1/2 tsp salt
1/2 tsp freshly ground pepper
neutral high heat oil for deep frying

Prep Time: 20 Minutes
Cook Time: 15 Minutes
Serves: 8