Glazed Bacon Burger
Posted by Ecomm Admin on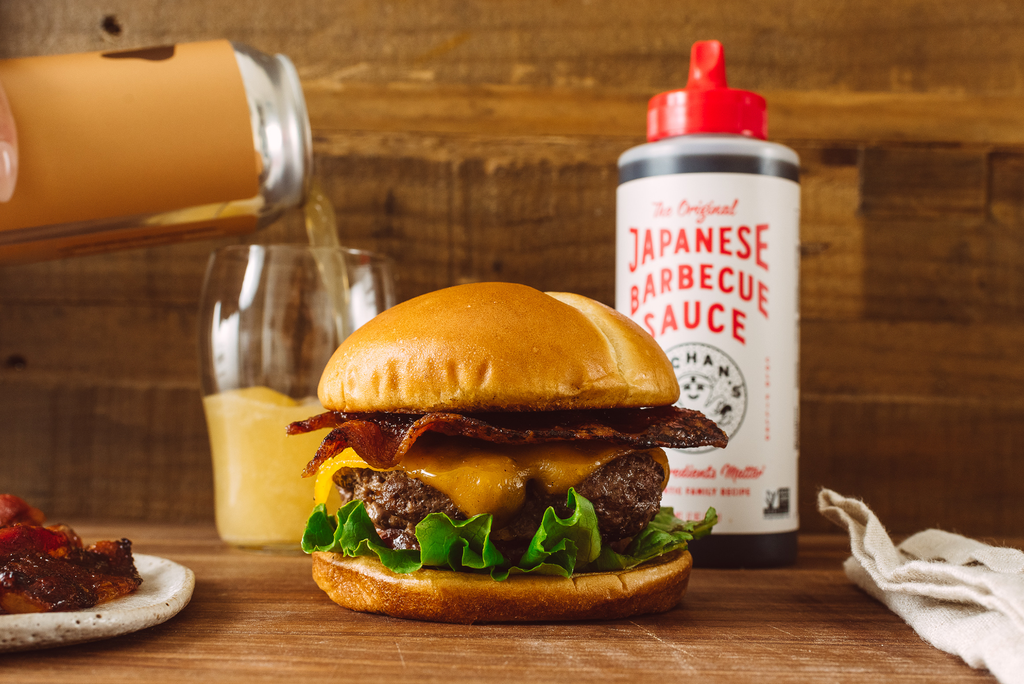 Directions
1. Move a rack to the upper third of the oven and preheat to 400°F. Line a rimmed baking sheet with foil and place a wire rack inside. Arrange the bacon slices on the rack.
2. Bake the bacon until almost crisp, 12-15 minutes. Remove the baking sheet from the oven and brush both sides of the bacon generously with 2 tbsp Bachan's Japanese Barbecue Sauce. Return to the oven and bake until fully glazed and crisp, 1-2 minutes more, keeping an eye on it so it doesn't burn. Remove from the oven and set aside.
3. Combine the ground beef with the remaining 2 tbsp Bachan's Japanese Barbecue Sauce and mix well. Divide evenly into 4 and shape into burger patties. Season with salt and freshly ground pepper.
4. Optionally butter and toast the buns on a grill over low heat. Evenly spread the buns with mayo.
5. Grill the burgers over a hot, oiled grill, for 5-7 minutes, until cooked to desired doneness, flipping as needed. Top each patty with cheese. Cook until the cheese has melted, about 1 minute, then move to the buns. Top the patties with the Bachan's glazed bacon. Finish the burger by adding tomatoes, lettuce, and the top bun. Enjoy while hot!
ingredients
1/4 cup Bachan's Original Japanese Barbecue Sauce
12 slices thick cut bacon
1/4 cup mayo
1 lb lean ground beef
4 tbsp butter, room temp, optional
4 brioche burger buns
4 leaves lettuce
4 slices tomato
4 slices cheddar cheese

Prep Time: 15 Minutes
Cook Time: 30 Minutes
Serves: 4