Gluten Free Veggie Stir Fry
Posted by Ecomm Admin on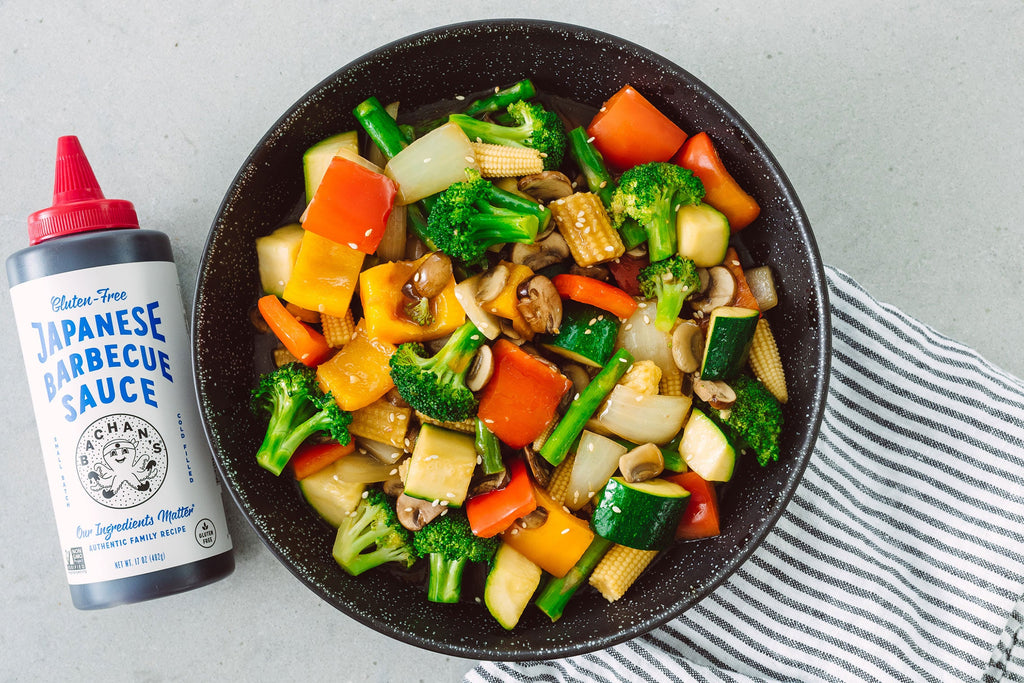 Directions
1. Whisk together the Bachan's Gluten Free Barbeque Sauce, corn starch, and stock to make the sauce. Set aside.
2. In a large pan, heat up the oil over medium high heat. Add the vegetables and cook until tender crisp, about 2-3 minutes, stirring as needed.
3. Add the sauce to the pan and bring to a boil to thicken and coat the vegetables. When glossy, remove from the heat and enjoy with toasted sesame seeds and green onions.
ingredients
1/4 cup of Bachan's Gluten-Free Japanese Barbecue Sauce
1.5 tbsp corn starch
1 cup no sodium chicken or vegetable stock
1 tbsp neutral oil
1/2 medium onion diced
2 bell peppers, diced
1 small zucchini, diced
2 cups broccoli florets
1 cup sliced mushrooms
1 can baby corn
1 cup asparagus, cut into 1 inch lengths
toasted sesame seeds
sliced green onions

Prep Time: 15 Minutes
Cook Time: 10 Minutes
Serves: 2