Hamburger Steak Bento Box
Posted by Ecomm Admin on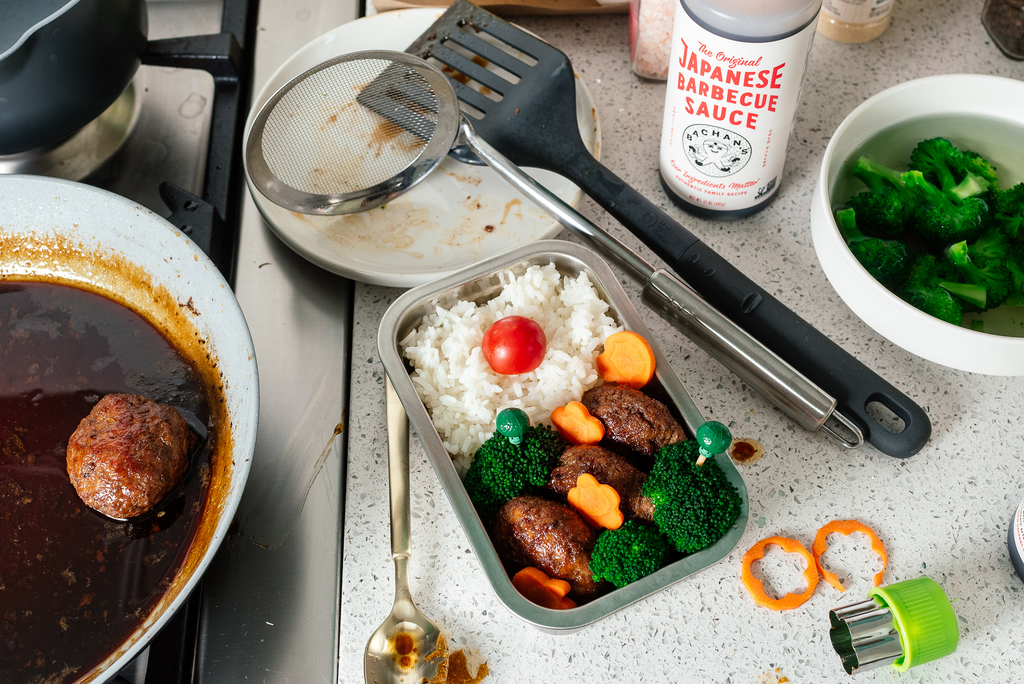 Directions
1. Lightly sauté the minced onions in a drizzle of oil in a non-stick pan, until tender, but not brown, about 1 minute. Transfer to a large bowl to cool.
2. When the onions are cooled, add the ground beef, panko, milk, and egg. Mix well until completely homogenous. Divide the mixture into 8 portions and shape into mini patties.
3. Heat a large non-stick pan over medium high heat and add a bit of oil. When hot, add the patties to the pan, gently pushing down. Cook until the patties are browned and release easily, about 3 minutes. Flip and continue to cook for another 3 minutes until browned.
4. Add 3 tbsp water to the pan and cover to steam until the patties are cooked through, about 5 minutes. Uncover and remove the patties from the pan.
5. Over medium low heat, add the butter to the pan. When melted, add Bachan's Japanese Barbecue Sauce and bring to a gentle simmer. Add the hamburg steaks back into the pan and toss to coat evenly with the sauce. Serve the mini hamburg steaks in a bento with rice and steamed broccoli.
ingredients
1/4 cup Bachan's Original Japanese Barbecue Sauce
1/4 small onion, minced or grated, about 1/4 cup
1 lb ground beef
1/3 cup panko
2 tbsp milk
1 large egg
1 tbsp neutral oil
2 tbsp butter

Prep Time: 30 Minutes
Cook Time: 20 Minutes
Serves: 4