Holiday Fried Rice
Posted by Ecomm Admin on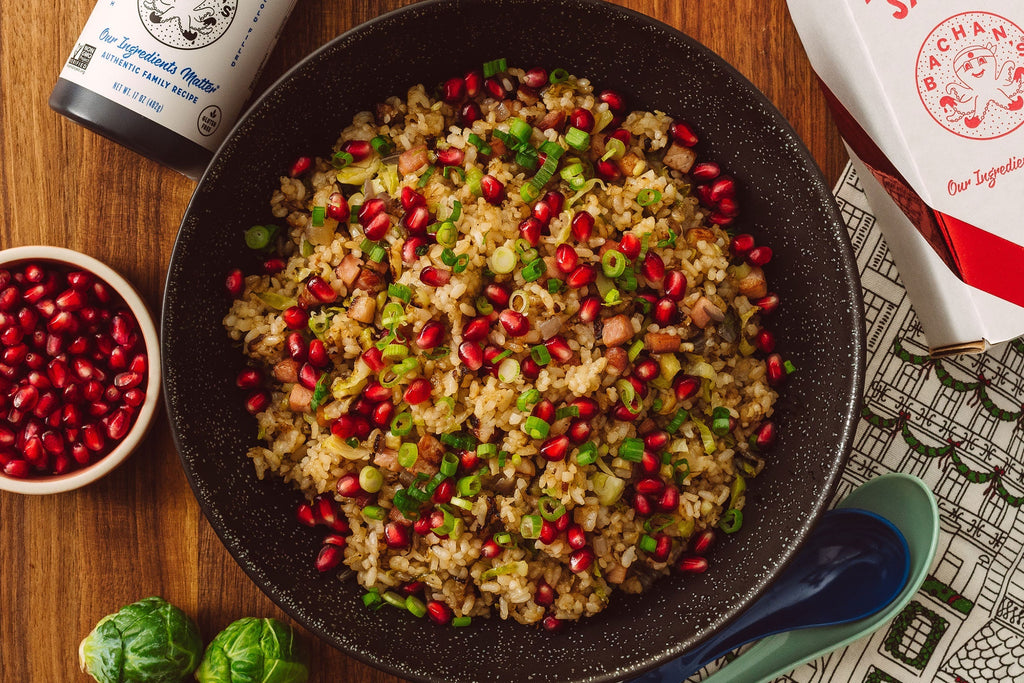 Directions
1. Fluff the rice and gently mix in 1-2 tablespoons of water, 2 teaspoons of oil, and the garlic and ginger powder. Coat the grains of rice evenly and set aside.
2. Add 1 tbsp oil to a large frying pan or wok and sauté the ham over medium heat, stirring occasionally, for 1 minute.
3. Add the onions and shredded brussels sprouts. Cook, tossing, about 1-2 minutes.
4. Turn the heat down to low and add the rice. Use a wooden spoon or spatula to break it up. Crisp the rice for about 5 minutes.
5. Turn the heat up to high, stir in Bachan's Gluten Free Barbecue Sauce, and fry, ensuring everything is smoky and crisp. Finish with the pomegranate seeds and enjoy immediately.
ingredients
2 cups cooked rice
2 tbsp oil
1/2 tsp powdered garlic
1/2 tsp powdered ginger
2 tbsp Bachan's Gluten Free Japanese Barbecue Sauce
1 cup ham cubes
1/4 medium red onion, diced
1.5 cups shredded Brussels sprouts
2 tbsp pomegranate seeds

Prep Time:
10 Minutes
Cook Time:
15 Minutes
Serves:
2