Homemade Pizza Party
Posted by Ecomm Admin on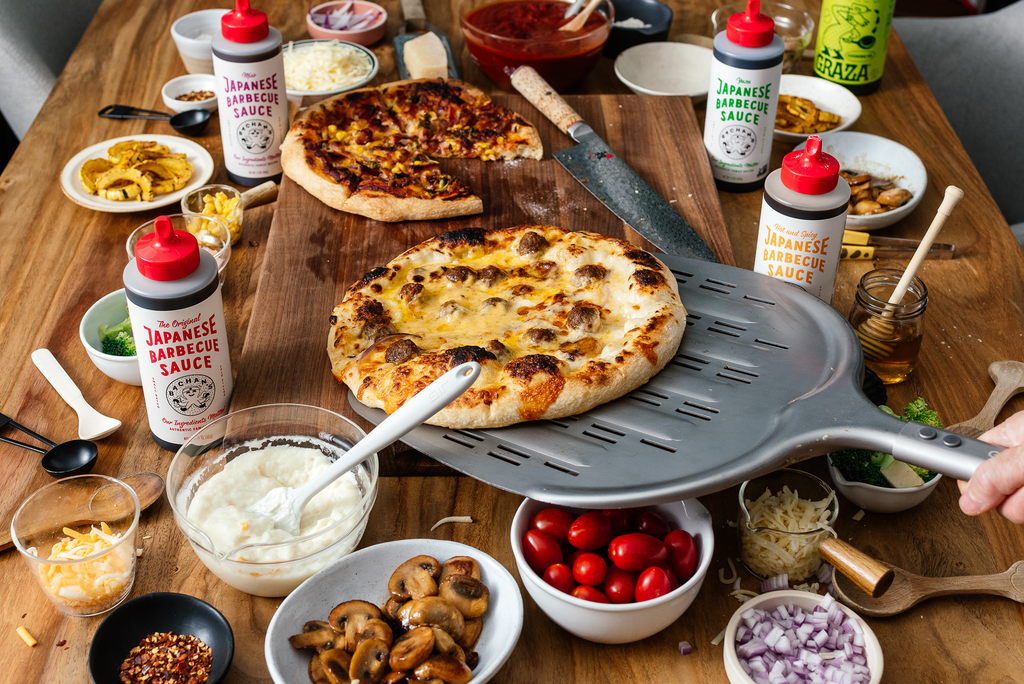 Directions
Equipment
cutting boards

perforated pizza pans

baking sheets (larger than the pizza pans)

pizza cutter (optional)

small bowls for sauces and toppings
Make your homemade pizza dough
1. In the bowl of a stand mixer, combine the flour, salt, and yeast. Add the water and olive oil and use a wooden spoon to combine into a shaggy dough.
2. Use the dough hook and knead on medium-low for 8 minutes, or until the dough is pliable and stretchy.
3. Turn the dough out onto a lightly floured surface and knead together into a pillowy ball. Divide the dough into 6 equal portions, and cover with a slightly damp cloth while you work with one ball at a time.
4. Shape each portion of dough into a ball by rolling and tucking the dough into itself. Brush lightly with olive oil and cover with a damp cloth. Repeat with all of the balls of dough. Let rise until doubled, about 1 hour. Alternatively, you can buy fresh pizza dough at most grocery stores, in the deli section. Or, you can find already baked pizza bases in the bakery or bread aisle.
Make one or more sauces
Bachan's Pizza Sauce: In a saucepan, melt the butter over medium low, then add the garlic, oregano, and red pepper flakes. Stir, cooking, until the garlic is fragrant, but not brown, about 2-3 minutes. Add the tomato paste and caramelize slightly, while stirring, about 3-5 minutes. Add the tomatoes, Bachan's Japanese Barbecue Sauce, and sugar. Bring to a simmer, stir, and remove from the heat. Taste and adjust the seasoning if needed. Let cool before using on pizza dough.
Miso garlic cheese sauce: Melt the butter in a small sauce pan over medium heat. Add the garlic and cook, stirring, for 1 minute. Sprinkle in the flour and stir for 1-2 minutes. Slowly whisk in the milk. Bring the sauce to a simmer, then stir in Bachan's Miso Barbecue Sauce. Let thicken and reduce slightly. When thick and bubbly, remove from the heat and whisk in the parmesan. Let cool to room temp before using on pizza dough.
Prepare the toppings
Yuzu Chicken: Toss 1 cup chopped cooked chicken in 2 tbsp Bachan's Yuzu Barbecue Sauce.
Hot and Spicy Sausage: mix 1/2 lb ground pork with 1 tbsp Bachan's Hot and Spicy Barbecue Sauce, 2 tbsp finely chopped onions, and 1 minced garlic clove. Shape into small 3/4 inch balls and pan fry in a nonstick pan over medium-high heat, flipping as needed, until golden and cooked through. Finish by tossing with Bachan's Hot and Spicy Barbecue Sauce, making sure to coat all the sausage balls.
Miso Mushrooms: heat up 2 tbsp butter in a large non-stick frying pan over medium heat. When the butter melts, add 2 cups sliced mushrooms and cook without moving for 3 minutes. Flip and continue to cook for another 3 minutes. Add 1.5 tbsp Bachan's Miso Barbecue Sauce to the pan, turn the heat to low, and stir, cooking and coating the mushrooms.
Make your pizzas
1. Stretch out your pizza: Lightly oil a 10 inch perforated pizza pan. Grab one of the balls of dough and place it on a lightly floured surface and use your hands to press and stretch it into a 10 inch round. Alternatively, use a rolling pin to roll out the dough into a circle. Place the stretched dough onto the prepared pizza pan.
2. Top the dough with about 1/3 cup sauce of choice. 3. Add as much cheese as desired.
3. Add toppings on top of the cheese.
4. Bake the pizzas in a 450°F preheated oven, rotating halfway, for 12-15 minutes, or until the crusts are golden and brown and the bottoms are crisp.
5. Remove from the oven, transfer the pizzas to a cutting board to be sliced. Add Bachan's Barbecue Sauces and sprinkle on some extra cheese as desired. Slice and enjoy!
ingredients
Pizza Dough:
• 6 2/3 cups all purpose flour (1000 grams)
• 4 tsp instant yeast
• 2 tsp kosher salt
• 2 3/4 cups plus
• 2 tbsp water
• 2 tbsp olive oil
Bachan's Pizza Sauce:
• 2 tbsp butter
• 2 cloves garlic, minced
• 1 tsp dried oregano
• 1 tsp onion powder
• 1/2 tsp red pepper flakes, optional
• 6 oz tomato paste
• 15 oz can tomato sauce
• 1 tbsp Bachan's Japanese Barbecue Sauce
Miso Garlic Cheese Sauce:
• 2 tbsp unsalted butter
• 2 cloves garlic, minced
• 2 tbsp all purpose flour
• 1 1/4 cup milk
• 1 tbsp Bachan's Miso Barbecue Sauce
• 1/4 cup shredded parmesan
Cheeses:
• shredded mozzarella
• shredded cheddar
• crumbled feta
• parmesan
Bachan's Specialty Toppings:
Yuzu Chicken
• 1 cup chopped cooked chicken
• 2 tbsp Bachan's Yuzu Barbecue Sauce
Hot and Spicy Sausage
• 1/2 lb ground pork
• 1 tbsp Bachan's Hot and Spicy Barbecue Sauce plus more for tossing
• 2 tbsp finely chopped onions
• 1 minced garlic clove
Miso Mushrooms
• 2 tbsp butter
• 2 cup sliced mushrooms
• 1.5 tbsp Bachan's Miso Barbecue Sauce
Other Toppings:
• pepperoni
• sliced ham
• crumbled bacon
• chopped bell peppers
• diced red onions
• pineapples
• fresh spinach
• corn
• halved cherry tomatoes
• olives
• fresh basil
• honey
Sauces:
• Bachan's Original Japanese Barbecue Sauce
• Bachan's Hot and Spicy Japanese Barbecue Sauce
• Bachan's Miso Japanese Barbecue Sauce
• Bachan's Yuzu Japanese Barbecue Sauce

Prep Time: 2 Hours
Cook Time: 45 Minutes
Serves: 6-8