Hot & Spicy Chili Bowls
Posted by Ecomm Admin on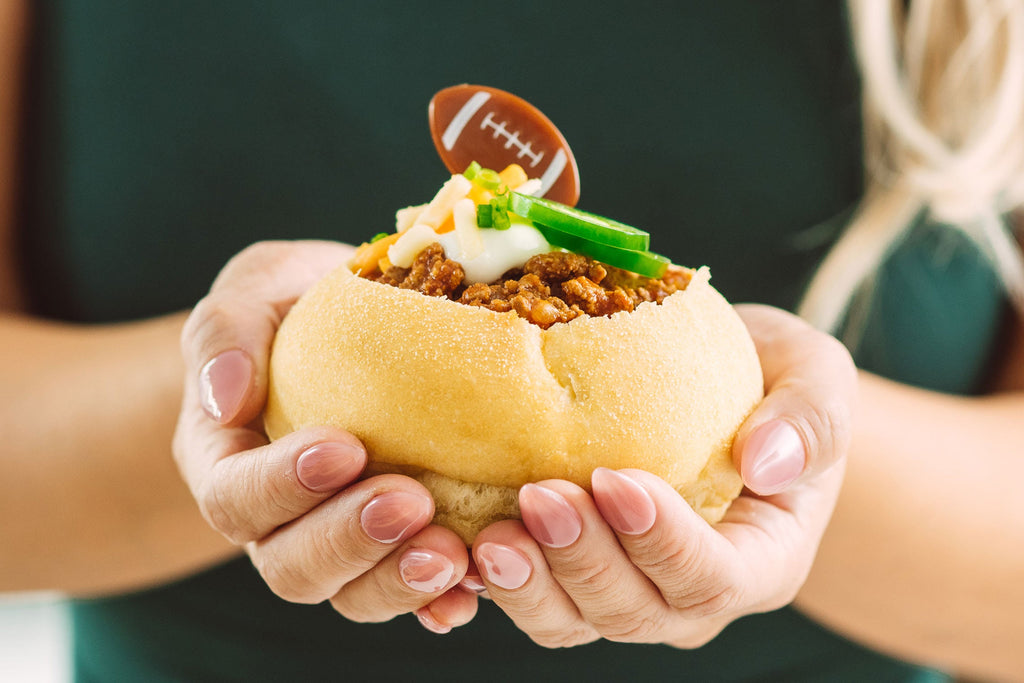 Directions
1. Heat up the olive oil in a large pot over medium heat. Add the garlic and cook, stirring, until soft but not brown. Stir in the onions and cook until soft.
2. Add the ground beef and brown, breaking up. Season to taste with salt and pepper, then stir in the tomatoes, tomato paste, beef stock, and Bachan's Hot and Spicy Barbeque Sauce. Add the spices and bring to a simmer. Turn the heat to low, cover, and cook for 1 hour, stirring occasionally. When done, season with freshly ground pepper. Taste and season with salt or more Bachan's Hot and Spicy Barbeque Sauce if needed.
3. Cut out rounds into the dinner rolls and hollow out the bread inside, leaving at least 1/2 inch at the bottom.
4. Fill the bread bowls with cheese and top with shredded cheddar, sliced green onions, and sour cream. Enjoy!
ingredients
1/4 cup Bachan's Hot and Spicy Japanese Barbecue Sauce
1 tbsp olive oil
4 cloves garlic, minced
1 medium onion, diced
1 lb lean ground beef
14 ounce can crushed tomatoes
6 oz tomato paste
1 cup beef stock
1 tsp chili powder
1 tsp cumin
1 tsp oregano
1 tsp freshly ground black pepper
8 crusty dinner rolls
1 cup shredded cheese
2 tbsp sliced green onions
1/2 cup sour cream
1 jalapeño, sliced

Prep Time: 10 Minutes
Cook Time: 1 Hour
Serves: 8