Hot & Spicy Korean Tacos
Posted by Ecomm Admin on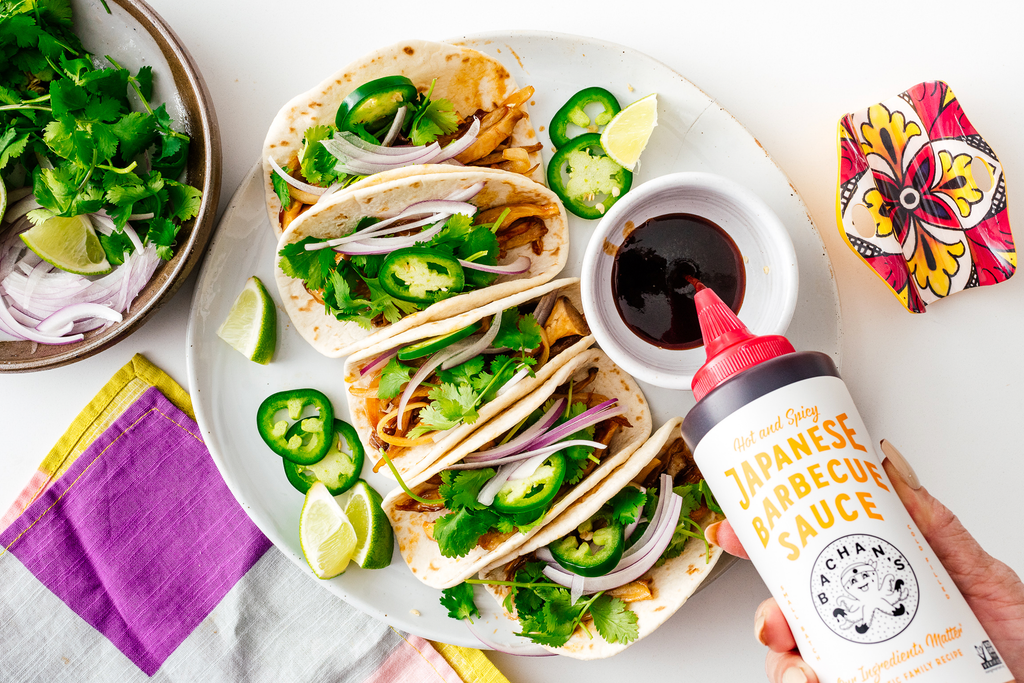 Directions
1. Trim the bottoms of the king oyster mushrooms and use two forks to shred, or, if using brown mushrooms, trim and slice.
2. Melt the butter in a large pan over medium high heat. Add the mushrooms and onions and sear without moving, for 2-3 minutes, then toss occasionally until the mushrooms and onions start to brown and soften.
3. Stir in Bachan's Hot and Spicy Barbeque Sauce and continue to cook until deeply browned and caramelized. Remove from the heat.
4. Warm the tortillas and top with mushrooms and onions, finishing with cilantro, jalapeños, red onions, and a squeeze of lime.
ingredients
1/4 cup Bachan's Hot and Spicy Japanese Barbecue Sauce
1 lb king oyster mushrooms or 1 lb brown mushrooms, diced
1 medium onion, sliced
2 tbsp butter
8 street size tortillas
chopped cilantro
1 jalapeño, sliced
diced red onion
lime wedges

Prep Time: 15 Minutes
Cook Time: 15 Minutes
Serves: 2