Marinated Roast Beef
Posted by Ecomm Admin on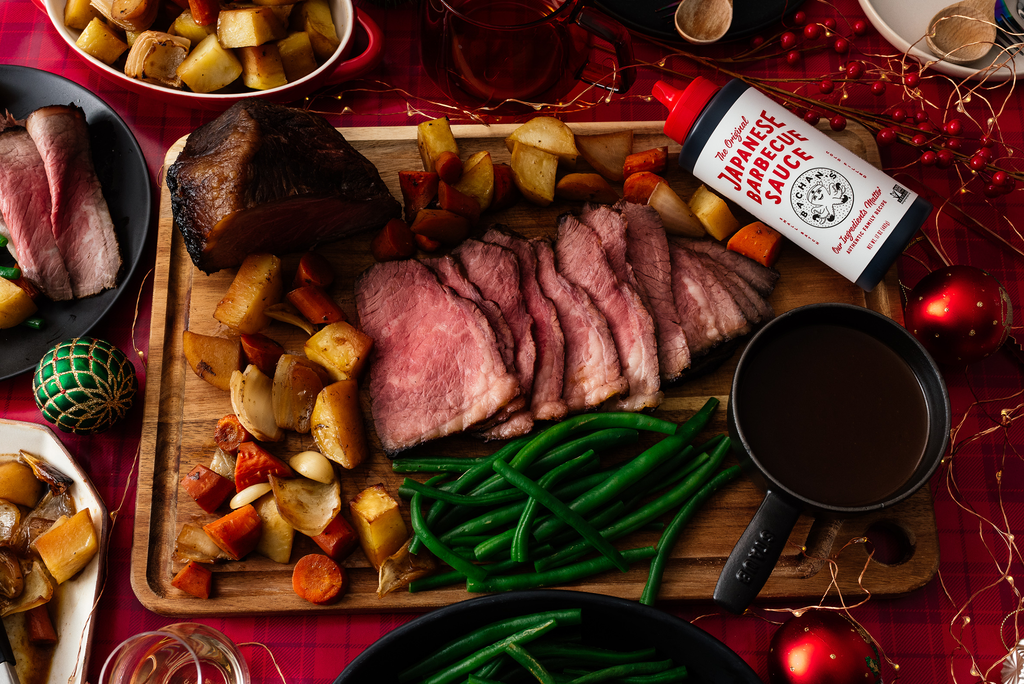 Directions
1. Mix together Bachan's Japanese Barbecue Sauce, balsamic vinegar, olive oil, and pepper in a large ziplock bag. Add the roast, push the air out, and seal, making sure the roast is in contact with the marinade. Marinate in the fridge for a minimum of 24 hours and maximum of 72 hours. If you don't have a large ziplock bag, use as tight fitting of a container as possible.
2. One hour before roasting, remove the roast from the fridge and leave it on the countertop to temper. Preheat the oven to 450°F.
3. Add the potatoes, carrots, onions, and garlic cloves to a large oven proof skillet. Add the marinade to the roasting dish, tossing the vegetables to coat evenly. Place the beef on top of the vegetables. Drizzle or brush the remaining 2 tbsp oil over the roast. Roast for 20 minutes, then turn the heat down to 350° and continue to roast for another 40 min to 1 hour, or until the center of the roast reaches 115°F. Cover with foil if the roast starts to brown too much.
4. Remove the skillet from the oven and carefully transfer the beef to a cutting board (ideally with a groove to catch juices) and cover loosely with foil. Let rest for 20-30 minutes. Place the vegetables back into the oven until done to your liking.
5. Remove the vegetables from the pan so that only the marinade and juices are left in the skillet. Place the skillet on the stove and heat over medium high. Sprinkle in the flour and whisk for 1-2 minutes or until the flour is cooked. Bring to a simmer, stirring occasionally, until the gravy thickens. Remove from the heat. 6. Thinly slice the beef and serve with the roasted vegetables and gravy. Enjoy!
ingredients
• 1 cup Bachan's Original Japanese Barbecue Sauce
• 1/4 cup balsamic vinegar
• 1/4 cup plus 2 tbsp olive oil
• 1 tsp pepper
• 3 lb beef roast (eg: top blade, eye of round, or top/bottom round roast)
• 3 potatoes, cubed
• 4 carrots, peeled and cut into 1 inch lengths
• 1 onion, cubed
• 1 head garlic, peeled
• 1.5 tbsp all purpose flour

Prep Time: 15 Minutes, plus marinating time
Cook Time: 1 Hour and 10 Minutes
Serves: 6-8