Miso Mince Pie
Posted by Ecomm Admin on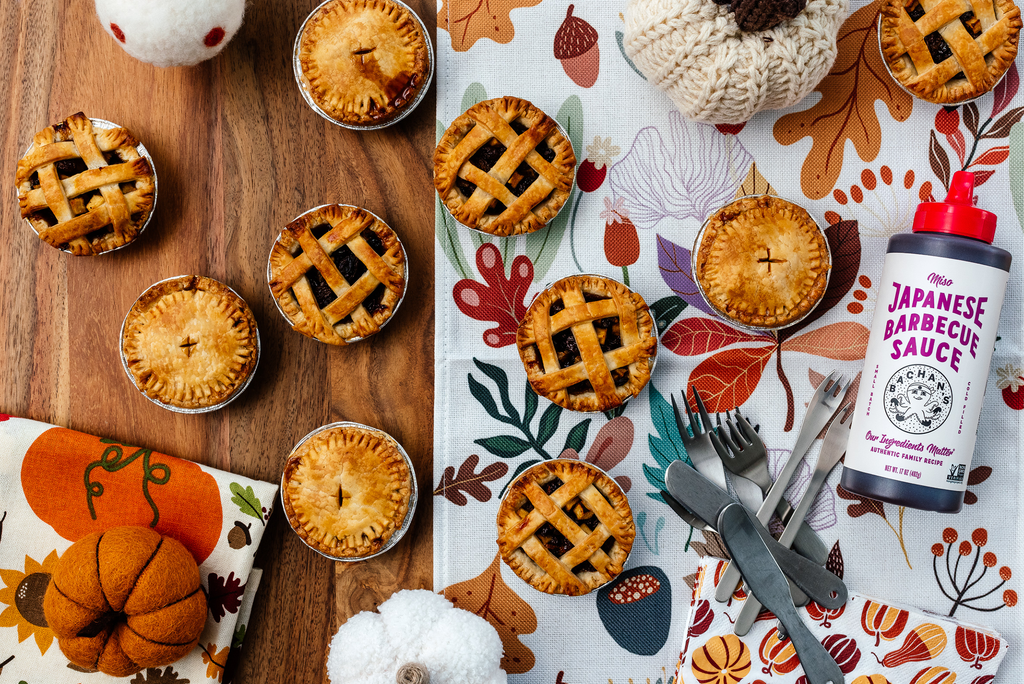 Directions
1. Add the the currants, raisins, diced apple, orange zest, and juice, candied orange peel, brown sugar, cinnamon, cloves, nutmeg, ginger, and Bachan's Miso Barbecue Sauce to a medium pot over medium heat. Cook, stirring occasionally, until the sugar melts and the fruit plumps up, about 4-5 minutes. Remove from the heat, transfer to a bowl or container, and chill in the fridge for 24 hours.
2. The next day, preheat the oven to 400°F. Lay the tart shells onto a baking sheet and fill each tart evenly with the Bachan's mincemeat mixture. Top each tart with the pie crust rounds and use a fork to press the edges together.
3. Prepare an egg wash by whisking 1 egg with 1 tablespoon of water. With a paring knife, cut a small x into the tops of the pies, then brush with the egg wash.
4. Bake until the pies are golden brown, about 15-20 minutes. Remove from the oven and let cool slightly. Dust with powdered sugar and enjoy warm or room temp.
ingredients
• 1/4 cup Bachan's Miso Japanese Barbecue Sauce
• 1 cup currants
• 1 cup raisins
• 1 granny smith apple, peeled, cored, and diced
• zest and juice of 1 orange
• 1/4 cup candied orange peel
• 1/2 cup brown sugar
• 1/2 tsp ground cinnamon
• 1/2 tsp ground cloves
• 1/4 tsp ground nutmeg
• 1/4 tsp ground ginger
• 12 store-bought mini pie crusts or tart shells
• 1 package store-bought pie crust, cut into 12 rounds
• 1 egg
• powdered sugar (optional)

Prep Time: 45 Minutes, plus 24 Hour Rest
Cook Time: 20 Minutes
Serves: 6 (makes 12 pies)