Miso Pinwheel Bento Box
Posted by Ecomm Admin on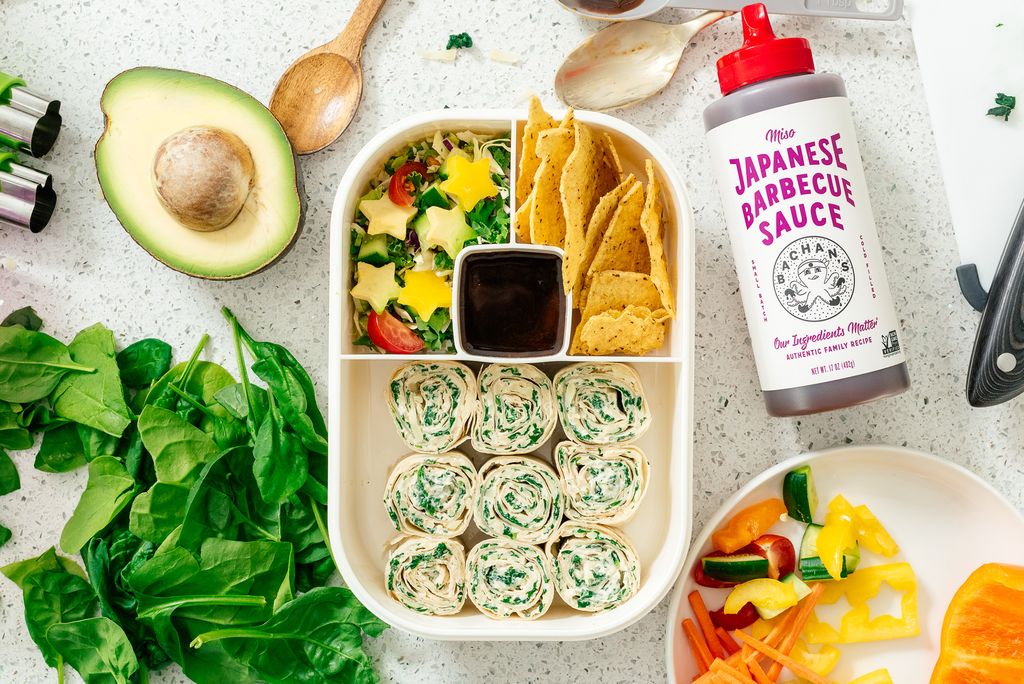 Directions
1. Quickly blanch the spinach: add the spinach to a small pot with 1/4 cup water and heat over medium heat just until the spinach wilts, 1-2 minutes. Remove from the heat and immediately plunge the leaves into cold water. When cold, squeeze out as much water out of the leaves as possible.
2. Finely chop the spinach and transfer to a bowl, then add cream cheese and Bachan's Miso Barbecue Sauce. Mix until smooth and incorporated.
3. Spread the tortilla with the spinach mix, thinly and evenly. Sprinkle on the mozzarella and roll up as tightly as possible.
4. Wrap with plastic wrap and let set in the fridge for 1 hour. Remove from the wrap, slice off the ends (enjoy as a treat!) then cut the roll evenly into 3/4 inch slices and use in lunchbox bentos.
ingredients
• 2 tbsp cup Bachan's Miso Japanese Barbecue Sauce
• 1 1/2 cups baby spinach
• 1/4 cup cream cheese, room temp
• 10 inch flour tortilla
• 1/4 cup shredded mozzarella

Prep Time: 15 Minutes
Cook Time: 5 Minutes
Serves: 4