Mushroom Risotto
Posted by Ecomm Admin on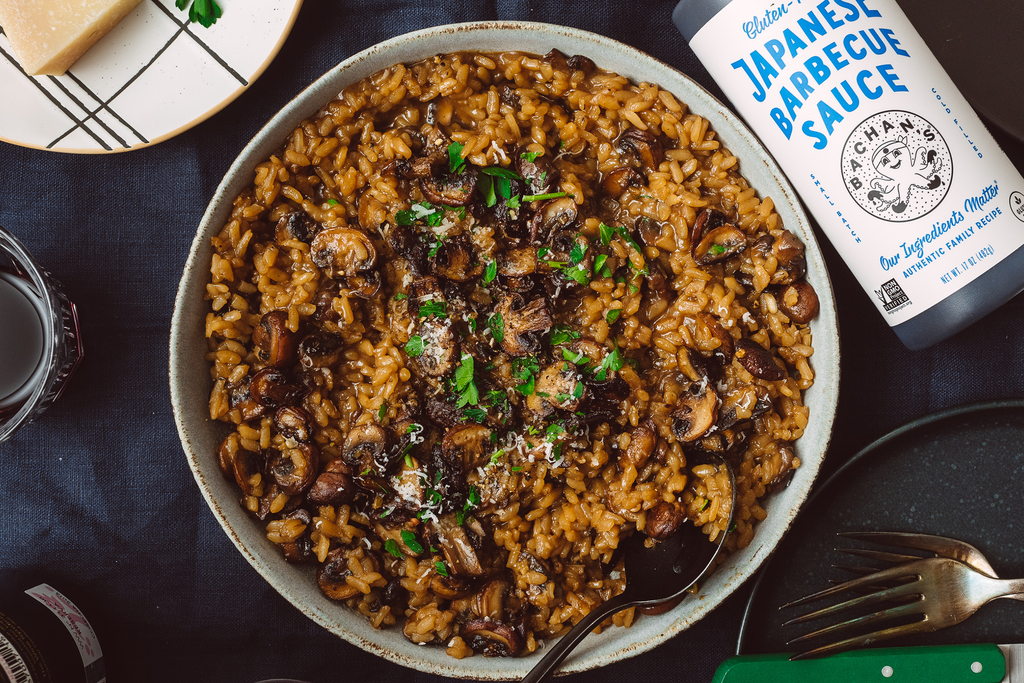 Directions
1. In a medium saucepan, heat up 3 cups of stock with 3 cups of water (to make 6 cups total) and the Bachan's Gluten Free Barbecue Sauce. When hot, turn the heat down and keep on a low simmer.
2. In a large skillet, heat up 2 tbsp of the olive oil and all of the butter over medium high heat. Add the mushrooms and sear without moving for 2-3 minutes. When the 2-3 minutes are up, toss occasionally, until the mushrooms turn golden and caramelized.
3. Add the garlic and season with a pinch of salt and pepper. Continue to cook, tossing, until deeply browned and caramelized, turning down the heat if needed. Remove the mushrooms from the skillet and set aside.
4. Add the remaining olive oil to the pan and heat over medium heat until hot. Add the rice and toast, stirring, until the edges of the rice start to look translucent but the centers are still opaque, 2-3 minutes.
5. Start a timer and add 1 cup of hot stock to the toasted rice, stirring every minute or so. When the rice has absorbed most of the liquid, add more stock, 1/2 cup at a time. Start tasting the rice around the 15 minute mark of cooking. The risotto is cooked when the rice is creamy and cooked through with only the tiniest bit of bite. It may take up to 25 minutes to finish cooking, and you may not use all of the stock.
6. Remove the pan from the heat and stir in the cheese and half of the mushrooms. If needed, loosen the risotto with any remaining left over stock.
7. To serve, plate the risotto, top with the remaining mushrooms, freshly ground black pepper, extra parmesan, and a drizzle of Bachan's Gluten Free Barbecue Sauce. Enjoy!
ingredients
3 tbsp Bachan's Gluten Free Japanese Barbecue Sauce
3 cups no sodium chicken stock or dashi
3 tbsp olive oil, divided
2 tbsp butter
1/2 lb mushrooms of choice, sliced or torn
2 cloves garlic, crushed
1/2 cup arborio
1/4 cup finely grated parmesan

Prep Time:
10 Minutes
Cook Time:
25 Minutes
Serves:
2