Perfect Pork Loin
Posted by Ecomm Admin on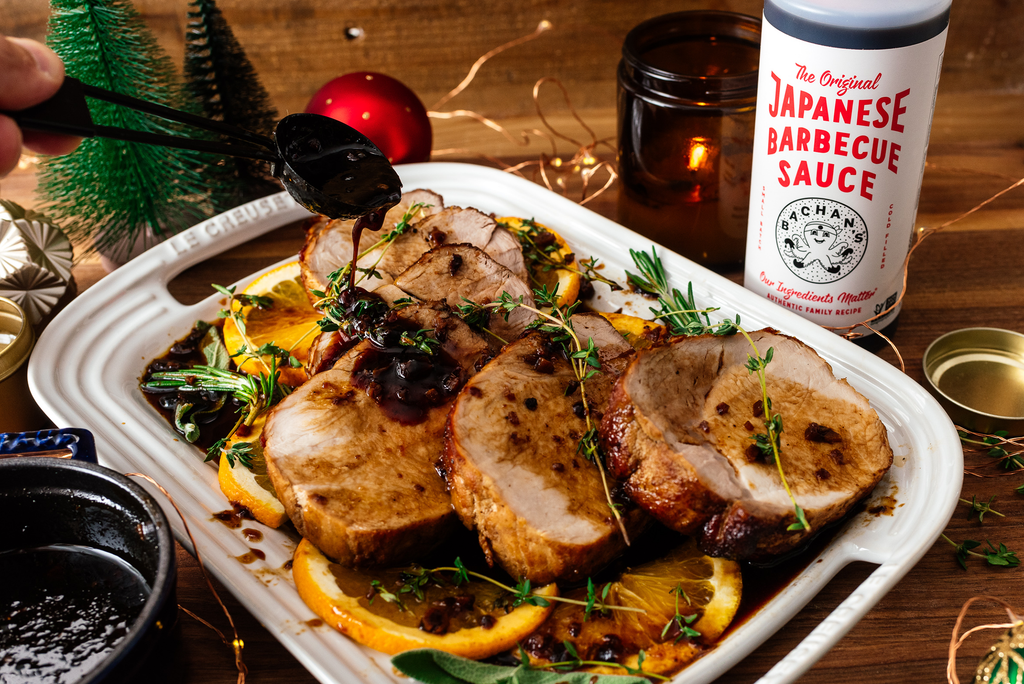 Directions
1. Preheat the oven to 350°F. Rub all sides of the tenderloin with the garlic powder, onion powder, salt and pepper.
2. Heat up the oil in a large oven proof skillet over high heat. When hot, sear the pork on all sides until golden, flipping as needed, then remove and set aside.
3. Turn the heat down and add the minced garlic to the pan. Cook the garlic, stirring, until golden, then add Bachan's Japanese Barbecue Sauce, honey, and rice vinegar. Add the pork back and turn to coat in the sauce.
4. Transfer the pan to the oven and roast for 20-30 minutes, or until the internal temperature of the pork hits 145°F.
5. Transfer the pork to a plate, cover loosely with foil, and rest. Place the skillet back on the stove over medium high heat and reduce the sauce slightly.
6. Cut the pork into thick slices and serve with the sauce spooned on top. Finish with fresh herbs, if desired.
ingredients
• 1/2 cup Bachan's Original Japanese Barbecue Sauce
• 2 lb trimmed pork tenderloin
• 1/2 tsp garlic powder
• 1/2 tsp onion powder
• 1/2 tsp salt
• 1/2 tsp pepper
• 1.5 tbsp neutral oil
• 3 cloves garlic, minced
• 1/4 cup honey
• 2 tbsp rice vinegar
• freshly chopped herbs, if desired (green onions, cilantro, parsley)

Prep Time: 10 Minutes
Cook Time: 40 Minutes
Serves: 6