Scissor Cut Noodles
Posted by Robert Van Horne on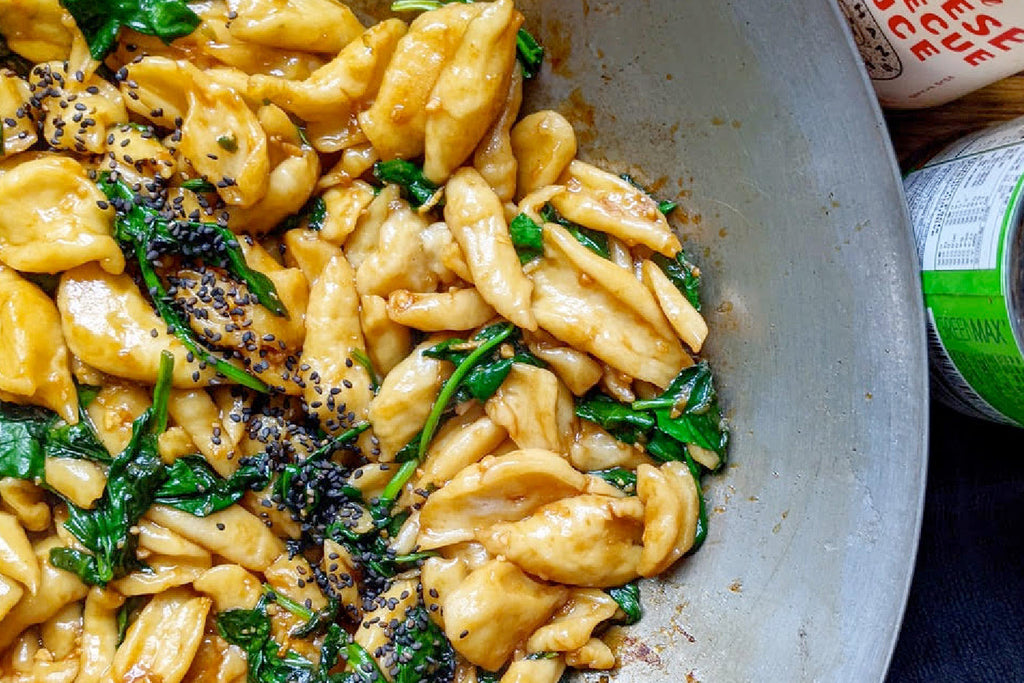 Directions
1. In a food processor, knead together flour, water, and salt.
2. Let the dough rest covered for 20 minutes. Meanwhile, boil water in a large pot.
3. Cut dough into bite size pieces with a pair of scissors into boiling water. Drain when all the noodles float.
4. Heat vegetable oil in a large wok over high heat until smoking. Add ginger and garlic, then noodles.
5. Add sauce ingredients - Bachan's, soy sauce, and sugar. Stir to combine.
6. Add greens and heat until wilted. Turn off heat and drizzle with sesame oil.
7. Sprinkle sesame seeds on top.
8. Serve with an extra drizzle of Bachan's for a healthy and satisfying meal.
Recipe provided by Lacey Siomos @avocadoesandales
ingredients
1 cup all purpose flour
½ cup water
½ tsp salt
1 tsp. toasted sesame seed oil
1 ½ cups greens of choice (spinach, kale, etc)
1 tbsp. sesame seeds
4 cloves chopped garlic
1 tbsp. Grated ginger
4 tbsp Bachan's Japanese Barbecue sauce
1 tbsp light soy sauce
1 tbsp sugar
2 tbsp. vegetable oil

Prep time: 20 minutes
Cook time: 30 minutes
Serves 2 people