Spam & Egg Breakfast Bowl
Posted by Ecomm Admin on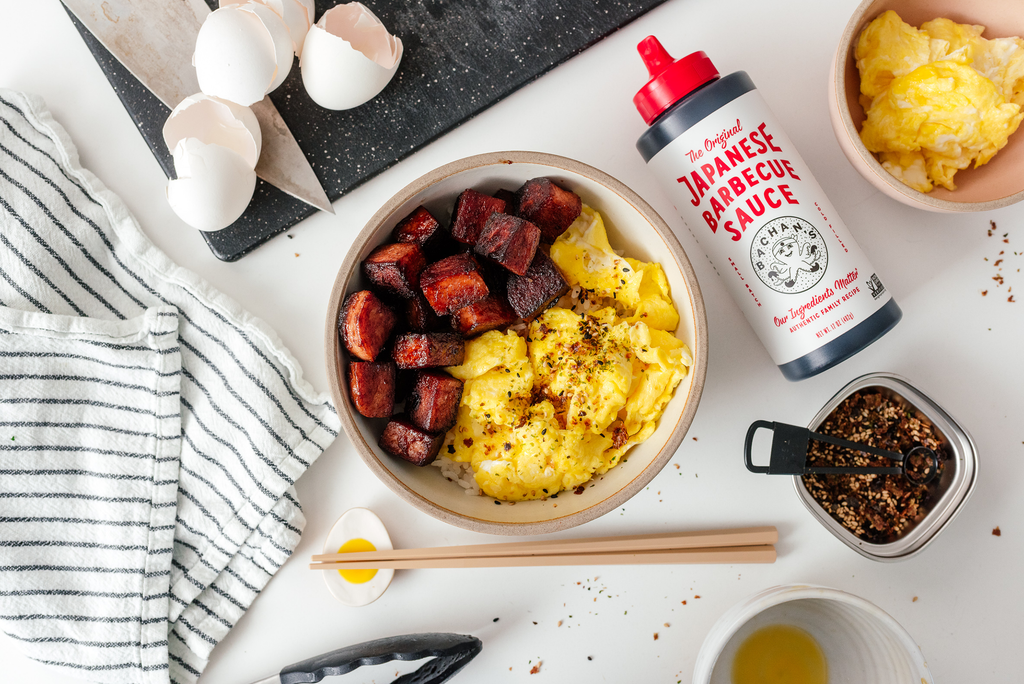 Directions
1. Heat up a large non-stick pan over medium heat and add the spam cubes. Cook, flipping occasionally, without adding oil, until the spam is golden and slightly caramelized, about 1-3 minutes per side.
2. Turn the heat to low and add the Bachan's Japanese Barbecue Sauce to the pan. Continue to cook for 1-2 minutes, flipping and coating all sides of the spam evenly. Remove the pan from the heat and set aside.
3. Crack the eggs into a large bowl and season with a pinch of salt. Lightly whisk, breaking up the whites and yolks.
4. Heat up a large, non-stick frying pan over medium-high heat and add the oil. When hot, add the eggs to the pan and use a silicone spatula to push the eggs from the edges of the pan towards the centre, cooking the eggs slowly and evenly, to create large curds. When the eggs are cooked to your liking, remove the pan from the heat.
5. Assemble the bowls: Evenly fill each bowl with hot rice then top with cubes of Bachan's spam and softly scrambled eggs. Top the eggs with furikake and dig in, drizzling with extra Bachan's if desired.
ingredients
• 2 tbsp Bachan's Original Japanese Barbecue Sauce
• 2 tbsp honey
• 4 cups cooked rice of choice
• 1 can spam, cubed
• 8 large eggs
• furikake, optional

Prep Time: 10 Minutes
Cook Time: 20 Minutes
Serves: 4