Spicy Buffalo Chicken Dip
Posted by Ecomm Admin on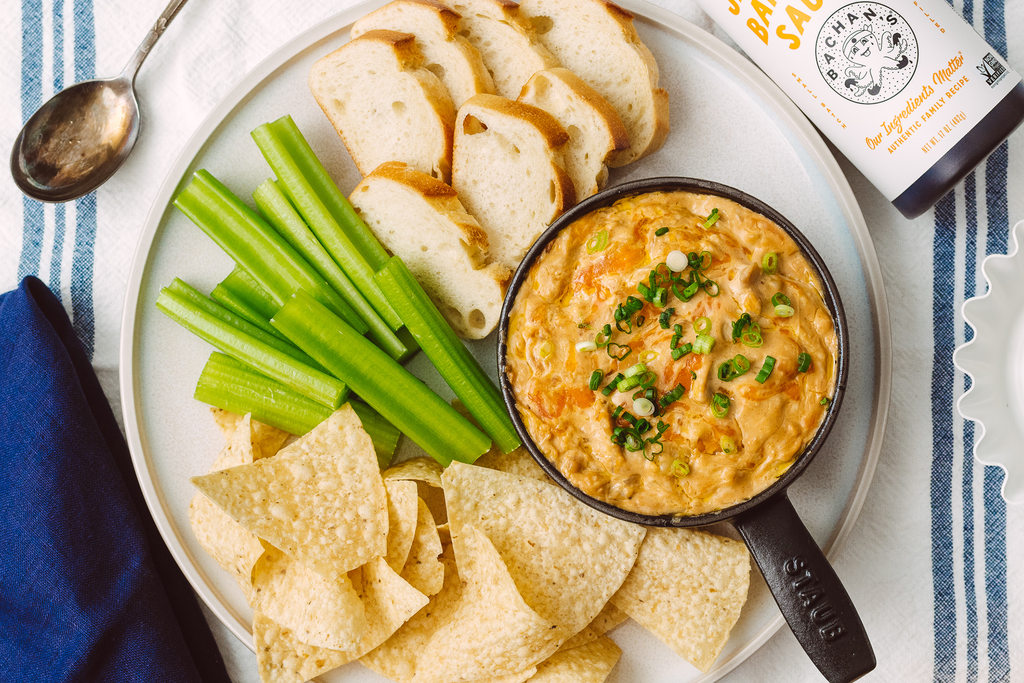 Directions
1. Heat the oven to 375°F.
2. Add the cream cheese to an 8 inch cast iron skillet and melt over low heat, stirring occasionally, until smooth.
3. Remove the pan from the heat and stir in the sour cream, shredded chicken, and Bachan's Hot and Spicy Barbecue Sauce.
4. Top with the shredded marble cheddar and bake in the oven until the cheese is melty, about 10 minutes. Broil for 1 minute to brown.
4. Remove from the oven and top with crumbled blue cheese (if using) and the sliced green onions. Enjoy hot with tortilla chips, baguette slices, celery and carrot sticks.
Note: If you don't have a cast iron skillet, melt the cream cheese in the microwave in 30 second increments, stirring in between. When melted, mix in the sour cream, chicken, and Bachan's. Transfer the dip to an oven safe container and top with cheese. Bake and finish as directed above.
ingredients
1/3 Cup Bachan's Hot and Spicy Japanese Barbecue Sauce
8 ounce block cream cheese, room temp
1/2 cup sour cream
2 cups shredded, cooked chicken
3/4 cup shredded marble cheddar
1/4 cup crumbled blue cheese, optional
1 tbsp sliced green onions
tortilla chips, baguette slices, celery and carrot sticks to serve

Prep Time: 10 Minutes
Cook Time: 15 Minutes
Serves: 6