Spicy Portobello Burger
Posted by Ecomm Admin on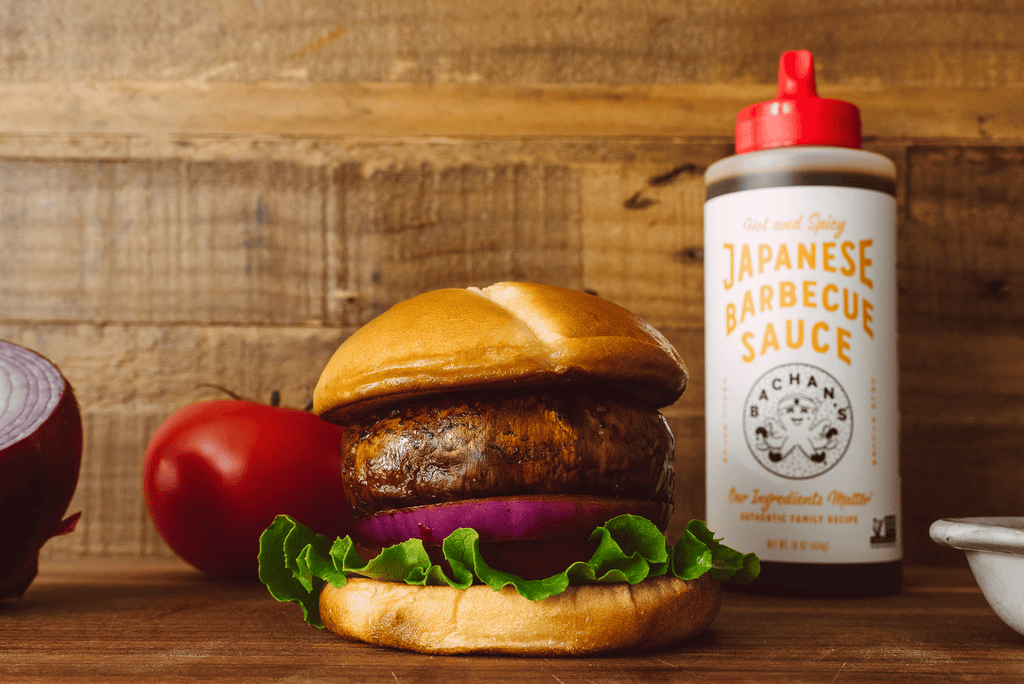 Directions
1. Trim the mushroom stems and clean the mushrooms with a damp paper towel or clean cloth.
2. Place the mushrooms on a rimmed baking sheet and drizzle both sides generously with oil. Season with salt and pepper and coat both sides with Bachan's Hot and Spicy Barbecue Sauce, using your hands to massage the Bachan's into the mushrooms. Marinate for a minimum of 5 minutes and up to 15.
3. Grill the mushrooms, cap side down to start, over a medium-hot, generously oiled grill, for 3-5 minutes per side, or until tender and lightly charred, flipping as needed.
4. Optionally butter and toast the buns on a grill over low heat. Evenly spread the buns with mayo.
5. When tender and golden, move the mushrooms to the buns and finish with red onions, lettuce, and tomato. Drizzle with extra Bachan's Hot and Spicy Barbecue Sauce and enjoy while hot!
ingredients
1/4 cup Bachan's Hot and Spicy Japanese Barbecue Sauce
4 large portobello mushrooms
1 tbsp oil
1/4 cup mayo
4 tbsp butter, room temp, optional
4 brioche burger buns
4 slices red onion
4 leaves lettuce
4 slices tomato

Prep Time: 15 Minutes
Cook Time: 20 Minutes
Serves: 4