Umami Green Bean Casserole
Posted by Ecomm Admin on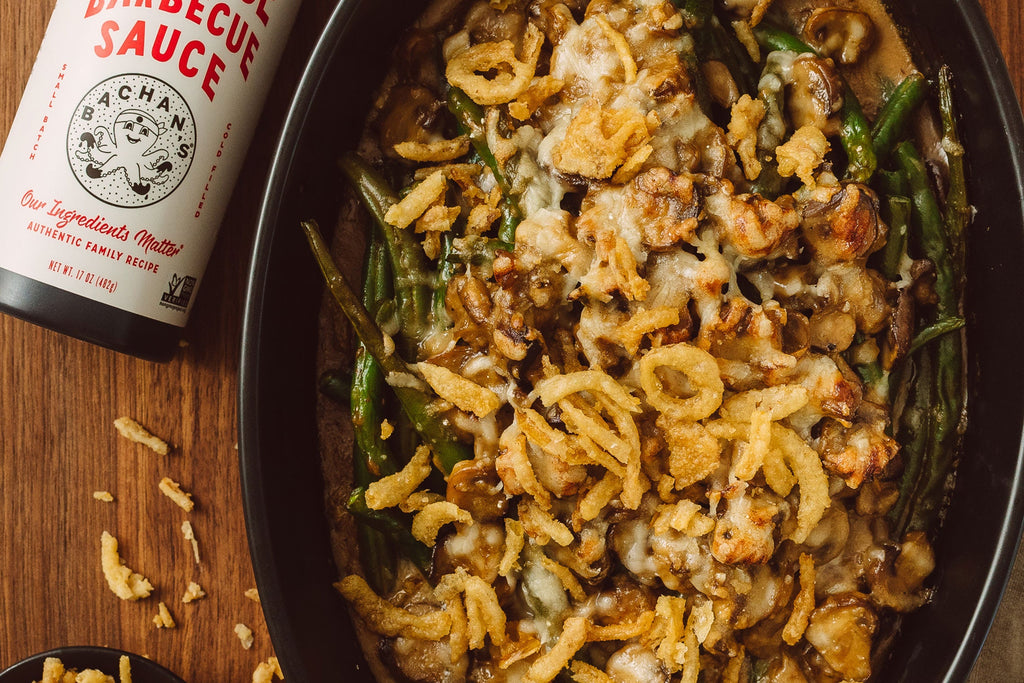 Directions
1. In a large sauté pan, melt the butter over medium heat. Add the onions and cook for 2-3 minutes, then add the garlic and cook for another minute. Stir in the mushrooms and cook until the mushrooms are golden and brown, about 7 minutes.
2. Sprinkle on the flour and stir, cooking for 2 minutes. Slowly stream in the stock, heavy cream, milk, and Bachan's Japanese Barbecue Sauce. Bring to a simmer and cook until slightly thick, about 10-15 minutes.
3. Meanwhile, blanch the green beans in boiling salted water for 3 minutes. Drain and plunge into an ice bath. Drain well. Preheat the oven to 375°F.
4. Arrange the blanched green beans in a large casserole dish and top with the mushroom sauce. Add the shredded parmesan and bake for 30 minutes.
5. Remove from the oven, gently toss, then top with the crispy fried onions. Bake for 5 more minutes, then enjoy!
ingredients
2 tbsp Bachan's Original Japanese Barbecue Sauce
4 tbsp butter
1/2 medium onion, sliced
4 cloves garlic, crushed
1 lb cremini mushrooms, sliced
2 tbsp all purpose flour
3/4 cup stock of choice
1/2 cup heavy cream
1/2 cup milk
1.5 lbs trimmed green beans
1/2 cup shredded parmesan
1/2 cup fried onions (store bought)

Prep Time: 25 Minutes
Cook Time: 35 Minutes
Serves: 4