Yuzu Grilled Chicken Banh Mi
Posted by Ecomm Admin on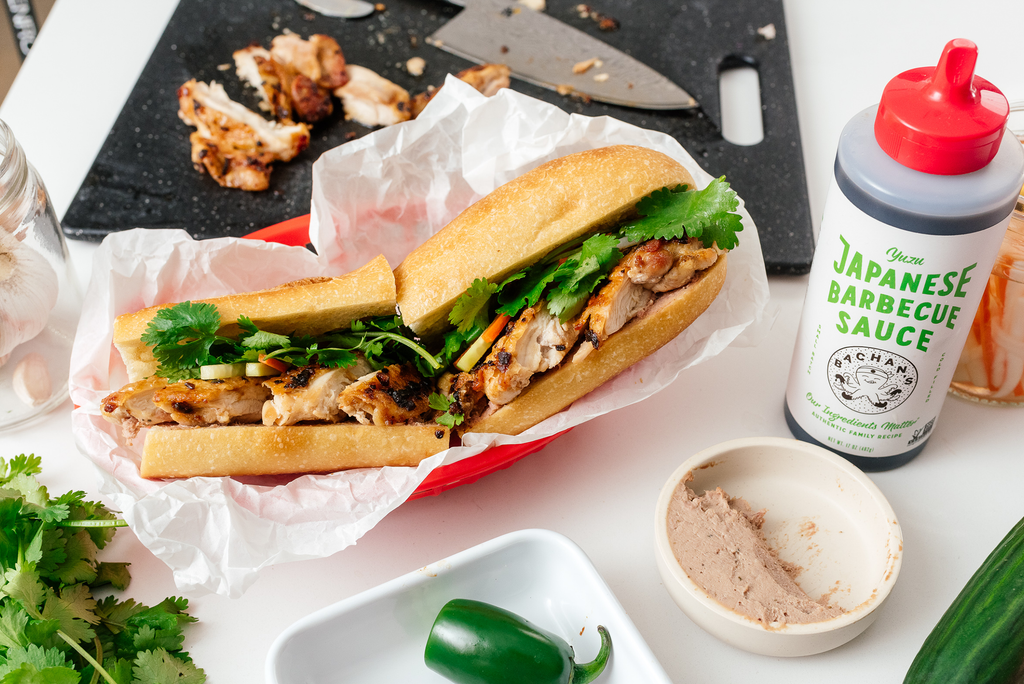 Directions
1. In a large nonstick pan, heat up the oil over medium heat. Add the chopped shallots and garlic and cook, stirring, until fragrant, about 1-2 minutes.
2. Add the chicken to the pan, skin side down and cook over medium heat, without moving for 7-8 minutes. Flip, then continue to cook until golden and cooked through. Remove the chicken from the pan and set on a cutting board. Drizzle with Bachan's Yuzu Barbecue Sauce, then slice into 1/2 inch slices.
3. Toast the baguettes, then slice in half lengthwise, being careful not to cut all the way through. Drizzle the bread with Bachan's Yuzu Barbecue Sauce to taste, then evenly spread pate on the bottom half and mayo on the top half.
4. Divide the sliced chicken between the sandwiches, then add cucumber spears, pickled daikon and carrot, jalapeño, and cilantro. Enjoy immediately.
Note: To make pickled daikon and carrots, toss 1 cup julienned daikon and carrots with 1 tsp salt and 1 tbsp sugar and let sit for 15 mins. Squeeze out the moisture and transfer to a jar. Add 1/4 cup rice vinegar and enough warm water to cover. Let sit for 1-3 days before enjoying, or use boiling water to make a quick pickle.
ingredients
• 2 tbsp Bachan's Yuzu Japanese Barbecue Sauce
• 1 tbsp neutral oil
• 1 tbsp finely chopped shallots
• 1 clove garlic, minced
• 4 boneless chicken thighs
• 2 demi baguettes
• 2 tbsp kewpie mayo
• 2 tbsp pate
• 4 spears cucumber
• 1/4 cup pickled daikon and carrots
• 8 slices jalapeño
• 4 sprigs cilantro

Prep Time: 15 Minutes
Cook Time: 15
Serves: 2