Yuzu Pineapple Teriyaki Bowls
Posted by Lucas Mays on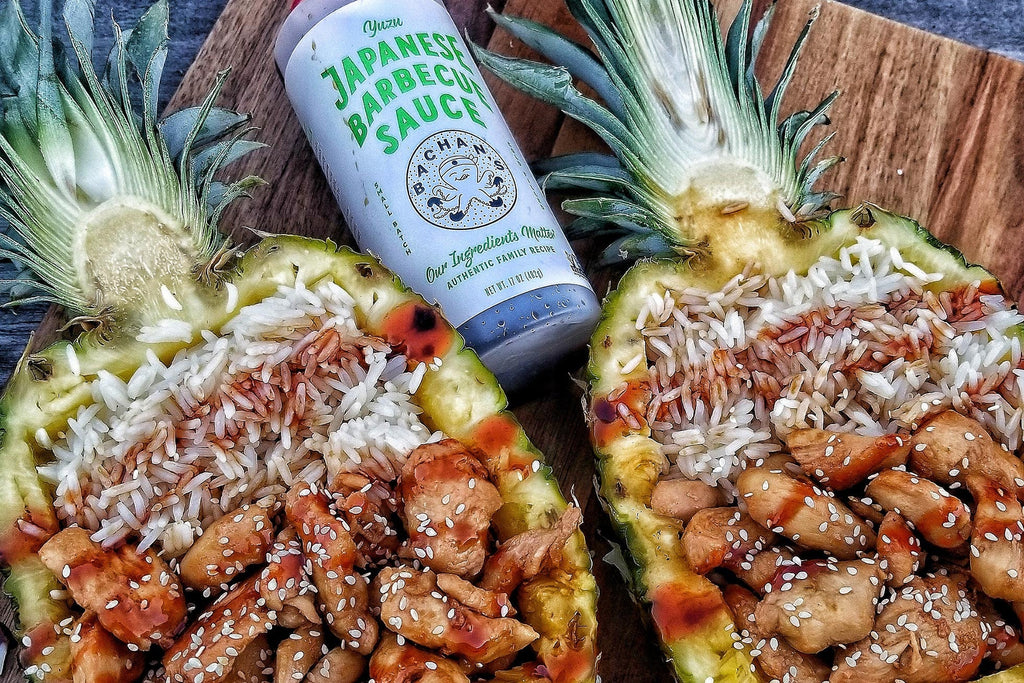 Directions
1. Start off by cutting your pineapple lengthwise.
2. Make two diagonal cuts starting from edge to edge leaving about a 1/4 inch on the sides of the pineapple.
3. Scoop out the fruit using a spoon.
4. While you're doing that, set your oven/grill to medium high heat.
5. Grab your package of chicken (for best results, marinate your chicken in Bachan's Yuzu Japanese Barbecue Sauce for at least 4 hours for extra flavor) and cook in oven/grill.
6. Cube your cooked chicken and set aside.
7. Simmer your Jasmine rice however you choose. I prefer 1¼ cups of water per 1 cup of rice. Simmer as fast as you can and then finish on low for an additional 10 to 12 minutes. Let stand.
8. Throw it all together in your pineapple bowl and drizzle with more Bachan's Yuzu Japanese Barbecue Sauce and toasted sesame seeds.
Bonus: save pineapple originally cut out for dessert and enjoy with some ice cream for dessert!
Recipe provided by @thetraegerdad
ingredients
1 whole pineapple
1 package chicken breasts or thighs
1 package jasmine rice
Sesame seeds
Water
Bachan's Yuzu Japanese Barbecue Sauce

Prep Time: 15 Minutes
Cook Time: 15 Minutes
Serves: 2