Yuzu Shiitake Steak & Noodles
Posted by Ecomm Admin on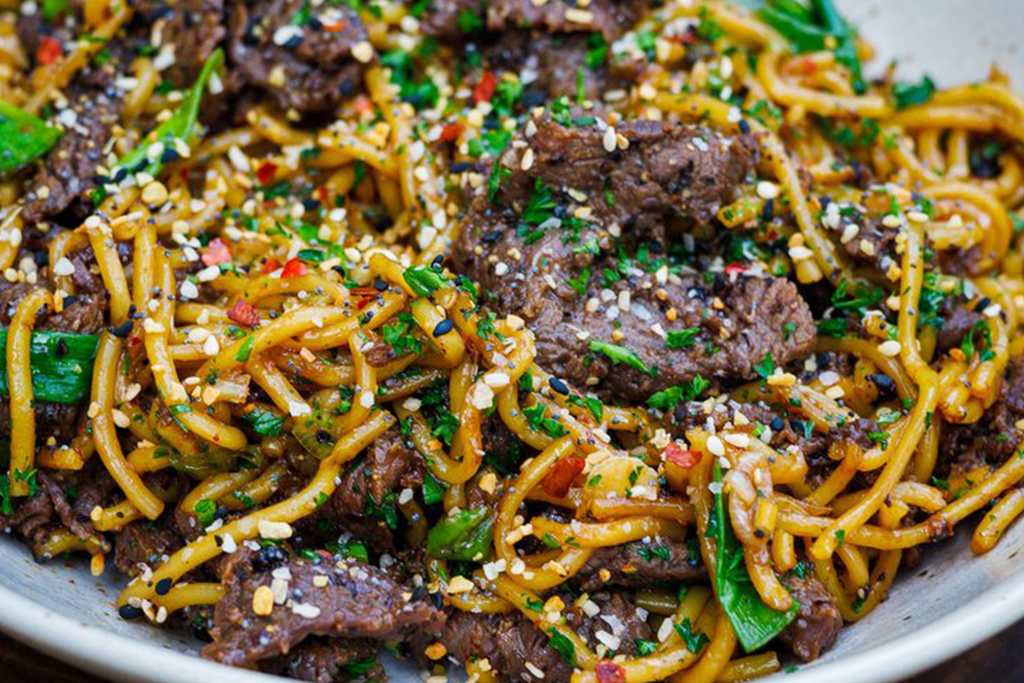 Directions
1. Thinly sliced the steak, against the grain, and placed it in a zip-top bag. The steak was placed in the freeze for ~45 minutes to 1 hour before slicing to help us slice it as thin as possible.
2.The steak was covered/coated with Shiitake Steak Rub and Yuzu Japanese BBQ Sauce, then allowed to marinate in the refrigerator for ~20 minutes. We used enough rub and sauce to evenly coat all of the thin slices.
3.While the steak marinated, we preheated a cast iron skillet over medium heat and prepared the green onions, parsley, and sauce. The green onion white and light green parts were sliced thin while the dark green parts were cut into ~2 inch sections. The parsley was finely chopped. The sauce was made with 2 tablespoons of Dark Soy sauce, 1 tablespoon of Light Soy sauce, and 1 teaspoon of Sesame Oil.
4.The steak went directly from the bag to the skillet (coated with some oil (we use Duck Fat), along with the any remaining marinade in the bag. We cooked the steak, stirring when needed, until it was done (with some char) and the liquid had cooked off. We removed the steak from the skillet.
5.The skillet was sprayed with some more Duck Fat spray and the white and light green parts of the green onions were sautéed from a few minutes, allowing them to soften and get some color. They were then removed from the skillet.
6. After a quick wipe, the skillet was sprayed again with Duck Fat Spray before the noodles, sauce, and a healthy dusting of Q-Nami Rub were added. We like to mix everything together in the skillet to coat, then spread the noodles into a single, even layer, and let them sit to get some crispy bits.
7. Towards the end of the noodle cook, we added the steak, cooked green onions (white and light green parts), and the green onion tops, mixing everything well.
8. The dish was finished with the chopped parsley and a dusting of Ballistic Everything Bagel Blend.
ingredients
American Wagyu Coulotte, sliced thin
1/4 cup Bachan's Yuzu Japanese Barbecue Sauce
Hokkien Stir-Fry Noodles
Light Soy Sauce and Dark Soy Sauce
Sesame Oil
Lane's Q-Nami Rub
Green Onions
Parsley
Green Onions
Reload Rub & Seasoning Ballistic Everything Bagel Blend
Deck fat spray

Prep Time: 65 Minutes
Cook Time: 25 Minutes
Serves: 2