Hot & Spicy Glazed Ham
Posted by Ecomm Admin on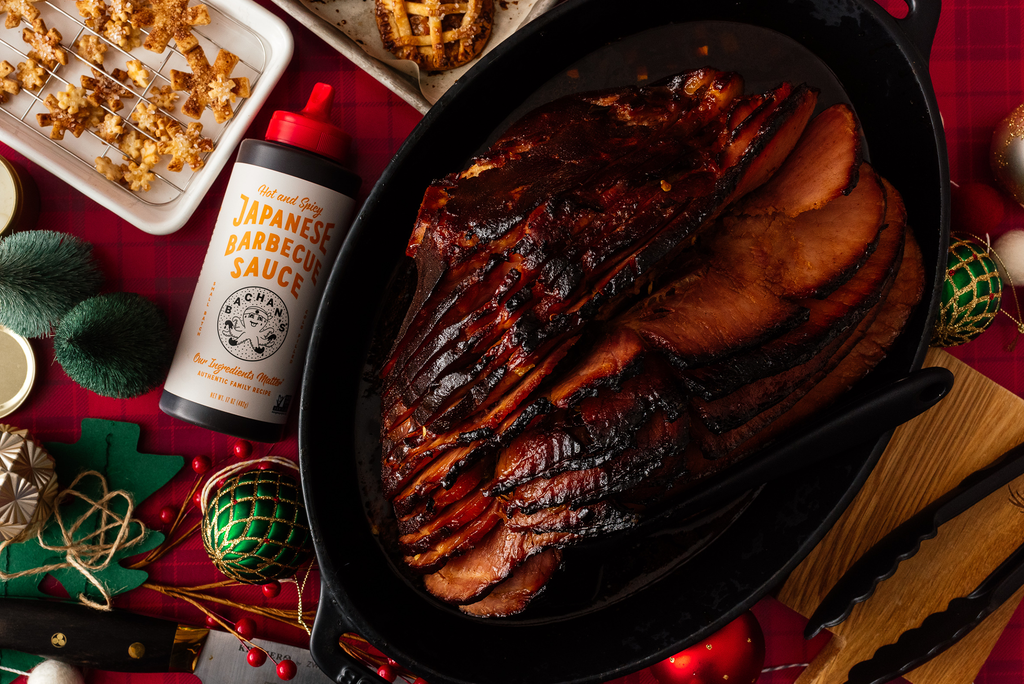 Directions
1. Preheat the oven to 350°F. Place the ham in a roasting dish and score if desired (don't score if using a spiral cut ham).
2. Make the glaze by adding the honey, brown sugar, Bachan's Hot and Spicy Barbecue Sauce, butter, rice vinegar, and jalapeños to a sauce pan. Bring to a simmer over medium heat for 5 minutes, stirring occasionally.
3. Evenly pour half of the glaze onto the ham and brush until the ham is completely covered. Cover with foil and bake for 1.5 hours, or until the ham is warmed through.
4. Remove the ham from the oven. Increase the oven temp to 400°F.
5. Remove the foil and brush on more glaze. Bake the uncovered ham for 15-20 minutes, or until the glaze caramelizes to your liking. Remove from the oven, baste with drippings, carve, and enjoy.
ingredients
• 1/2 cup Bachan's Hot and Spicy Japanese Barbecue Sauce
• 1/2 cup honey
• 1/2 cup brown sugar
• 1/4 cup unsalted butter
• 2 tbsp rice vinegar
• 2 jalapeños, seeded and diced
• 9 lb bone-in ham (spiral cut optional)

Prep Time: 10 Minutes
Cook Time: 2.5 Hours
Serves: 16